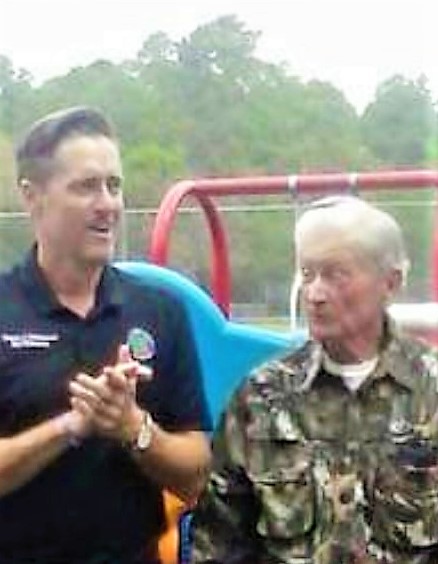 Tolbert, pictured on the right with current HNWS CEO and former District 4 County Commissioner Rob Williamson, cutting the ribbon at the April 20, 2016 grand opening of the playground at Holley Ball Park. "He helped build the original ball park," stated Donna Sue Harvell at the time. "Once upon a time it was dedicated to his son, Lenny." (South Santa Rosa News File Photo)
James H. Tolbert, 92, of Holley, passed away Friday, May 10 at his home. He was surrounded by family and friends.
Tolbert, a U.S. Army Korean War veteran and a descendent of a local pioneering family, was an avid hunter and fisherman but was regarded as a pillar of the Holley-Navarre community after founding both the Holley-Navarre Fire Department in 1964 and Holley-Navarre Water System in 1970, serving on the water board until 2002. He retired from Monsanto in 1981.
"I think of the sacrifice and time he gave to our community. He truly helped 'build' Holley-Navarre and Santa Rosa County," said Rob Williamson, CEO of HNWS.
Tolbert was born November 1, 1926 at his family's home on Bob Tolbert Road, which was named after his grandfather, Robert, a son of William Tolbert, who fought in the Civil War. James' parents were Hillary and Lillie Mae Summerlin Tolbert. After Hillary died in 1928, his mom remarried Gordon Evans.
"I helped string the first power cable across East Bay in 1948 from an old fishing boat," Tolbert stated in the Heritage of Santa Rosa County Book series, which details his family's lineage.
He is survived by his life-long sweetheart and wife of 69 years, Claudette Broxson Tolbert, who fondly recalls how he would sing to her when they would load up and go floundering or down the northern shore of East Bay to catch mullet.
He also leaves behind their daughters, Kathy Blankenship and Trudie Tolbert, and five grandchildren: Jeremy Blankenship, Jody Blankenship, Micah (Scott) Wyrosdick, Kacie (Nic) Charles and Michael Lenny "Tater" (Julie) Smith; 9 great-grandchildren and numerous relatives.
He was preceded in death by their son, Lenny James Tolbert.
"I would have never dreamed of living anywhere else other than in Holley on land once owned by my father," Tolbert stated in the book, noting that he enjoyed spending his retirement years working on cars, homes and "anything else" his grandchildren needed fixed.
Tolbert will be laid to rest on Tuesday, May 14. A visitation for family and friends will take place from 11 a.m. until 12 noon at Lewis Funeral Home's chapel in Navarre. The funeral will start at 12 noon and burial at Holley Point Cemetery will immediately follow.
Active pallbearers will be Vicky Broxson, Ronny Broxson, Clay Broxson, Ted Tolbert, Michael Parker and Bill Timlin. Honorary pallbearers will be all of the community of Holley.