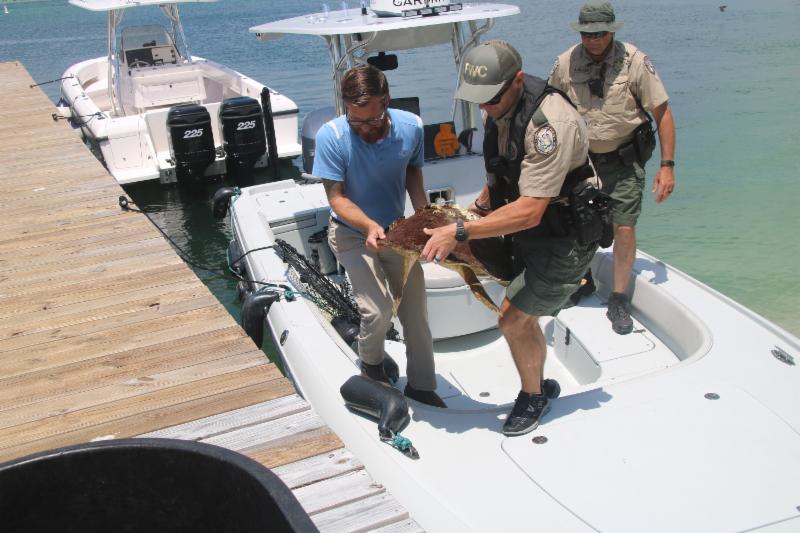 Members from the Florida Fish and Wildlife Conservation Commission and the C.A.R.E. Center worked together to help rescue one of the sea turtles
The Gulfarium's C.A.R.E. Center will be releasing four rehabilitated sea turtles on Monday, September 17, 2018 at 10am. The press and public are invited to attend the occasion. Monday's release will be held at Park West off of Fort Pickens Rd in Pensacola. Visitors are encouraged to park in the large parking lot at Park West, and the release will be held on the far west end of the park.
Three of the four rehabilitated sea turtles fell victim to ingested marine debris and fishing hook related injuries.
Ghostrider, a sub-adult Loggerhead, was hooked at Navarre Beach Fishing Pier on July 26, 2018. Weighing 124 pounds, this sea turtle underwent surgery to remove ingested fishing gear.
Kara, another sub-adult Loggerhead, was found floating at the surface of the water in Destin on June 1, 2018. Team members from the Gulfarium C.A.R.E. Center and Florida Fish and Wildlife Conservation Commission partnered together to rescue Kara. Kara was emaciated and anemic upon arrival. This sea turtle received fluid therapy, vitamin supplements, and antibiotics.
Peppermint, weighing just under 6 pounds, was brought to the Lifeguard station near the Navarre Beach Artificial Reef with a j-hook embedded behind the front right shoulder. This juvenile Green received a clean bill of health, and was quickly ready for release after the removal of the hook.
Sheryl, a sub-adult Loggerhead weighing 115 pounds, was caught at the Okaloosa Island Fishing Pier in the front right shoulder on August 31, 2018. Sheryl was provided a light sedation to remove a large gauge circle hook and metal line from the esophagus.
All four sea turtles were rehabilitated at the Gulfarium C.A.R.E Center and are cleared for release.
The Gulfarium CARE Foundation, a 501(c)(3) non-profit, is proud to act as a beacon for coastal conservation through marine animal rescue and rehabilitation. Donations are tax-deductible and can be made online on the C.A.R.E. Center's page.