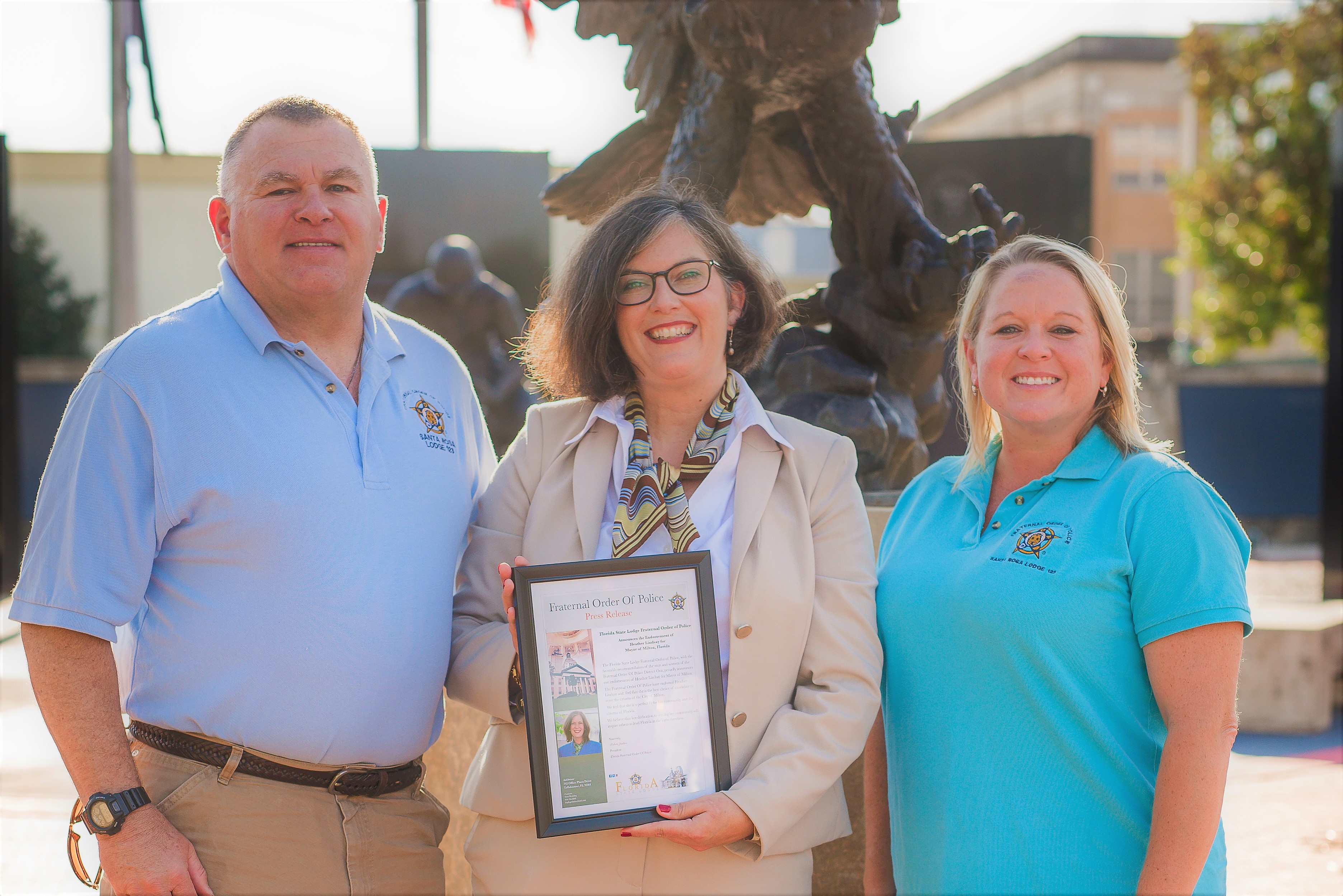 Fraternal Order of Police State Trustee Officer Jamey Kahalley, Mayoral Candidate Heather Lindsay and Officer Anna Jones, treasurer, FOP Lodge 123
Following a tumultuous year for the City of Milton, a law enforcement organization has stepped in to endorse candidate Heather Lindsay for Mayor.
The Florida State Lodge Fraternal Order of Police during an October 31 presentation announced its support for Attorney Heather Lindsay for Mayor of Milton.
"We represent the Milton Police Officers who decided to endorse Ms. Lindsay," Fraternal Order of Police State Trustee Officer Jamey Kahalley told South Santa Rosa News.
Lindsay expressed gratitude for the endorsement and stated her commitment to honoring the service of law enforcement.
"A city must have as its first priority the welfare of its people, and that duty cannot be fulfilled without an appropriate investment in law enforcement personnel, training, and equipment," Lindsay said. "The commitment of law enforcement to our safety and welfare is outstanding."
Lindsay, the former city attorney, is facing incumbent Mayor Wesley Meiss, who has received public criticism for his treatment of minority leaders.
Meiss, during video of the council's December 13, 2017 meeting, is shown in an attempt to stop minority Councilwoman Mary Johnson from being sworn in with fellow council members, citing a complaint that she resided out of district.
During that meeting, Lindsay, who was acting City Attorney at the time, challenged Meiss, stating City Clerk Dewitt Nobles had verified Johnson's residency during the candidate qualification period and questioning the "last minute" complaint.
Johnson was ultimately seated, and during a January 3, 2018 meeting the NAACP addressed the council, and Meiss apologized for his handling of the matter.
Additionally, Al Brewton, an outspoken local minority community leader, accused Meiss of using profanity during an altercation in the parking lot of City Hall following the council's April 10 meeting.
Brewton, during the council's April 19 meeting, requested a public apology from Meiss, who initially avoided related discussion.
However, Councilwoman Johnson intervened and eventually persuaded an apology from Meiss, who in turn had accused Brewton of instigating the confrontation and also using profanity.
Meiss on April 10 cast the tie-breaking vote to fire City Manager Brian Watkins. Randy Jorgensen, the city's former planner, has been named the new City Manager.
Lindsay on June 4 announced her resignation as City Attorney, stating the council had acted against her counsel on occasion. The Lindsay & Lindsay firm since 1977 had represented the City of Milton, and the city in February had voted to seek quotes for legal services.
On June 12 the Moore, Hill and Westmoreland law firm in Pensacola was hired to provide legal representation for the City of Milton.
The race will be decided by residents of the city during the November 6 general election.