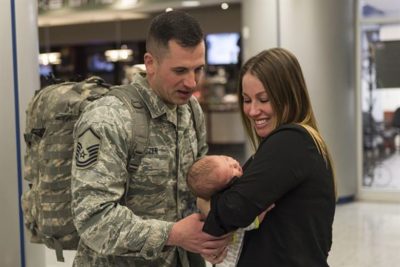 Deployments, extended TDY's, and ongoing medical appointments increase stress on military families–especially those with young children. To offset some of these challenges, eligible active-duty parents can receive free childcare vouchers through the "Give Parents a Break" program.
The program, sponsored by the Air Force Aid Society and the Airman and Family Readiness Center, offers eligible parents a few hours break from the stresses of parenting.
"'Give Parents a Break' provides the support many families need during challenging times," said Pamela Jackson-Moorer, 96th Force Support Squadron Child Development Center II director. "Just that one day a month to spend doing whatever you may like is a huge help when it comes to every day challenges."
To qualify for the program, parents must be referred by a squadron commander, chaplain, doctor or other medical professional, family advocacy personnel, A&FRC personnel, or CDC director. Qualifying circumstances include deployment or extended TDY, family crises or emergencies, which cause an extended absence of one parent, or having a child with special needs.
The Air Force Aid Society will cover the cost for families who meet the criteria and reimburse the Child Development Center during their designated "Parent's Night/Day Out" program.
"The AFAS recognizes the stress involved in parenting, and when one of these situations arise, they try to help out by 'giving parents a break' for a few hours a month," said Amy Johnson, 96th FSS Community Readiness Specialist.
The program is scheduled for one Saturday each month and alternates every other month between a "Day Out" and a "Night Out." During the program, children engage in a variety of developmentally appropriate activities.
Qualifying parents must obtain the voucher from A&FRC and call CDC II to reserve a space prior to the scheduled Day Out or Night Out program. Jackson-Moorer recommends reservations be made at least two weeks in advance.
"In today's society, families are under a tremendous amount of stressors," said Jackson-Moorer. "Knowing your child is being cared for is one less stressor to worry about."
In addition to offering the Give Parent's a Break vouchers, the A&FRC and AFAS also offer childcare vouchers to parents volunteering on base and military families in the midst of a permanent change of station. Those volunteering on base are eligible to receive 32 hours of free childcare per month. PCS'ing families are eligible for up to 20 hours of free childcare.
The PCS and volunteer vouchers can be redeemed using in-home care providers vetted through the CDC. Eligible parents must provide verification of orders and volunteer status to the A&FRC. They are then welcome to schedule the childcare time through the in-home care providers, explained Johnson.
For more information about the Give Parents a Break program, or free childcare vouchers for PCS'ing or volunteering, call the A&FRC at (850) 882-9060.