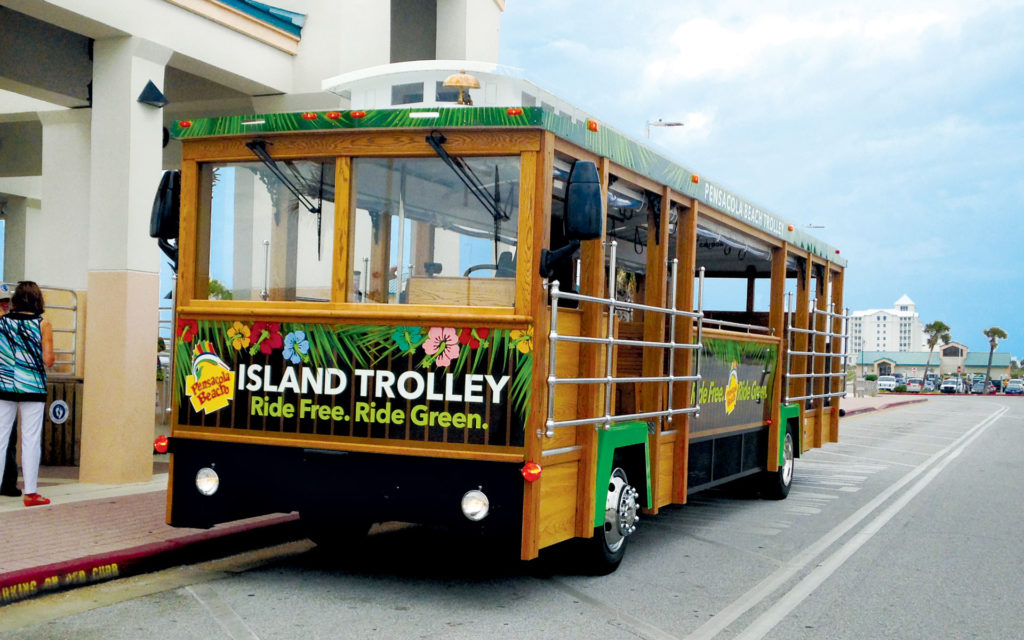 The free trolley service on Pensacola Beach will kick into full swing on Friday, May 25, at 4 p.m., with the start of Memorial Day weekend.
The trolley system, funded by the Santa Rosa Island Authority, is free to all riders. Three open-air trolleys will service the beach daily. While one trolley will be running east, another will be running west. A third trolley will remain in the core area moving passengers around the Pensacola Beach Boardwalk, Casino Beach and Via De Luna as far as the fire station.
The environmentally-friendly trolleys provide a 360-degree view for passengers, having no windows or sidewalls. Each car also features a flat-screen monitor that showcases recreational opportunities on the island and details what's available at each trolley stop.
The 2018 trolley schedule will run DAILY starting Friday, May 25, through Labor Day Monday, Sept. 3. The trolleys run from 4 p.m. to midnight, with the last pickups at 11:30 p.m. Trolleys pick up and drop off passengers only at the designated trolley stops.
The beach trolleys help alleviate traffic congestion by allowing visitors to park anywhere and have a convenient way to tour the whole island. Each open-air trolley is energy efficient, runs on clean diesel fuel and is outfitted with a GPS device that electronically tracks its location, updating its position every 30 seconds.
Visitors can access the real-time trolley schedule four ways:
• Visit the "Trolley Tracker" at visitpensacolabeach.com/trolley-map/
• Call 850-602-9384 and enter the trolley stop number
• Text SRIA (space) and the trolley stop number to 41411
• Scan the QR code posted at each trolley stop with a smartphone
To see a map of all trolley stop locations, or for more information, go to visitpensacolabeach.com/trolley-information.