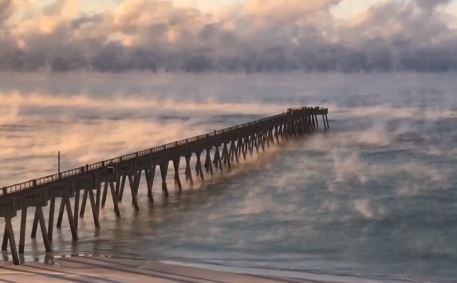 Sea smoke over Navarre Beach Fishing Pier on November 1, 2019 (U.S. National Weather Service photo). Sea smoke takes place when cold air moves across a warm body of water. Current Gulf temperatures are around 70 degrees, so there could be a nearly 50-degree difference in the air above the Gulf water overnight.
The U.S. National Weather Service in Mobile, Alabama has issued a wind advisory in effect at 9 a.m. this morning and a freeze warning in effect for 10 p.m. this evening. Subsequently, Santa Rosa County is opening a cold weather shelter tonight.
The cold weather shelter for the homeless and/or heatless will open nights Mon., Nov. 30 and Tues., Dec. 1 at Ferris Hill Baptist Church, located at 6848 Chaffin St. in Milton. Those who would like to stay at the shelter must arrive between 6:30 and 8:30 p.m. No one will be admitted after 8:30 p.m. unless brought in by law enforcement. The shelter closes at 7 a.m. each morning. Forehead temperature scans will be taken upon registration. Masks will be provided and required, and all are asked to adhere to safety precautions put in place due to COVID-19.
Santa Rosa County's cold weather shelter is operated by Ferris Hill Baptist Church, utilizing volunteer resources and donations. It opens each night weather is forecasted to drop below 40 degrees, typically December through March. The shelter is for people who are homeless or cannot maintain heat in their home, can care for themselves, and are not at risk to themselves or others. No one will be admitted to the shelter who is under the influence of drugs or alcohol, unable to walk unaided or disoriented.
WIND ADVISORY IN EFFECT FROM 9 AM THIS MORNING TO 5 PM CST THIS AFTERNOON……FREEZE WARNING REMAINS IN EFFECT FROM 10 PM THIS EVENING TO
* WHAT…For the Freeze Warning, sub-freezing temperatures as low as 25 expected. For the Wind Advisory, northwest winds 15 to 20 mph with frequent wind gusts up to 35 mph expected.
* WHERE…Portions of south central and southwest Alabama,
northwest Florida and southeast Mississippi.
* WHEN…For the Freeze Warning, from 10 PM this evening to 8 AM CST Tuesday. For the Wind Advisory, from 9 AM this morning to 5 PM CST this afternoon.
* IMPACTS…Gusty winds could blow around unsecured objects. Tree limbs could be blown down and a few power outages may result. Frost and freeze conditions will kill crops, other sensitive vegetation and possibly damage unprotected outdoor plumbing.
PRECAUTIONARY/PREPAREDNESS ACTIONS…
Use extra caution when driving, especially if operating a high
profile vehicle. Secure outdoor objects.
Take steps now to protect tender plants from the cold. To prevent freezing and possible bursting of outdoor water pipes they should be wrapped, drained, or allowed to drip slowly. Those that have in-ground sprinkler systems should drain them and cover above- ground pipes to protect them from freezing.