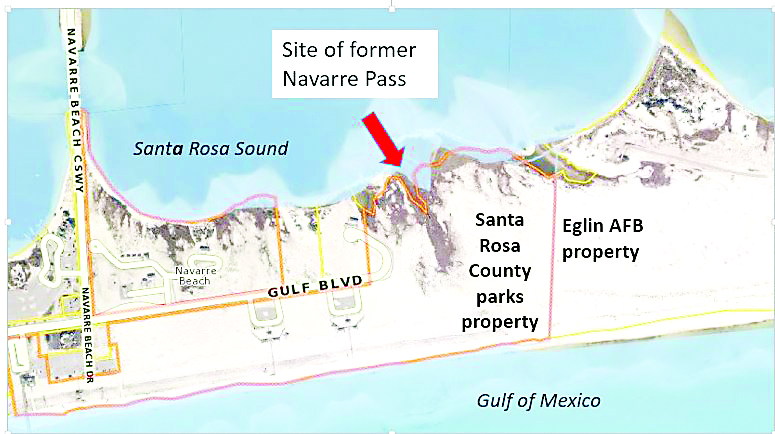 U.S. Congressman Matt Gaetz on Monday reaffirmed his commitment to reopen Navarre Pass and sponsor legislation to transfer ownership of Santa Rosa Island to leaseholders.
"We remain committed to the Navarre Pass," Gaetz told South Santa Rosa News. "My top priority in the 115th Congress is to expand the capabilities in the Gulf test range. My hope is that this will create more flexibility for the live fire test and littoral (shore) training missions currently on Navarre Beach."
Gaetz also expressed confidence that fee simple legislation he is co-sponsoring this year with Senator Marco Rubio will be successful under the Trump administration.
Former Congressman Jeff Miller, Gaetz's predecessor, unsuccessfully attempted legislation to provide beach leaseholders the ability to attain a title to their property, which is owned by the federal government and leased to Escambia County.
Presently Navarre Beach property is subleased from Escambia County to Santa Rosa County, which collects lease fees and taxes on the property.
Gaetz discussed the matters April 17 at the Santa Rosa County Visitor Information Center during a small gathering of stakeholders, including beach leaseholders and local leaders, such as Santa Rosa County Commission Chairman Rob Williamson, Escambia County Commissioner Grover Robinson and Greater Navarre Chamber CEO Tony Alexander.
Since that meeting, supporters and opponents of reopening Navarre Pass have spoken out.
Some local businessmen like James Dabney, owner of East River Smokehouse and Navarre Boardwalk Marina, support reopening the pass. Dabney believes the move would improve circulation and reduce stagnation in Santa Rosa Sound while providing positive financial growth.
The Holley-Navarre Water System on Tuesday voted to endorse reopening the pass, citing economic benefits and environmental improvements.
However, Linda Young, executive director of the Florida Clean Water Network, disagrees that reopening the pass is a good move for the environment. "The remaining seagrasses will die fairly quickly if the saltier Gulf waters are brought in," she said.
Shark fisherman Earnie Polk is also against reopening the pass. "Is the money worth spoiling our sleepy little beach town," he asked.
But it's the potential impact on local military training which will prevent the measure from moving forward this year.
Eglin officials have stated that although reopening the pass would provide another access to Santa Rosa Sound, increased traffic in the waterways would impact training exercises, such as Marines storming the beach.
Therefore, Alexander said Gaetz plans to focus first on working with the military to expand the Gulf range to mitigate any potential military training impact before pursuing reopening the pass.
"It's on a different time table than the fee simple title issue we plan to address during the 115th Congress," Gaetz said.