Santa Rosa County Sheriff's Office last night booked wanted fugitive Michael Dakota Austin.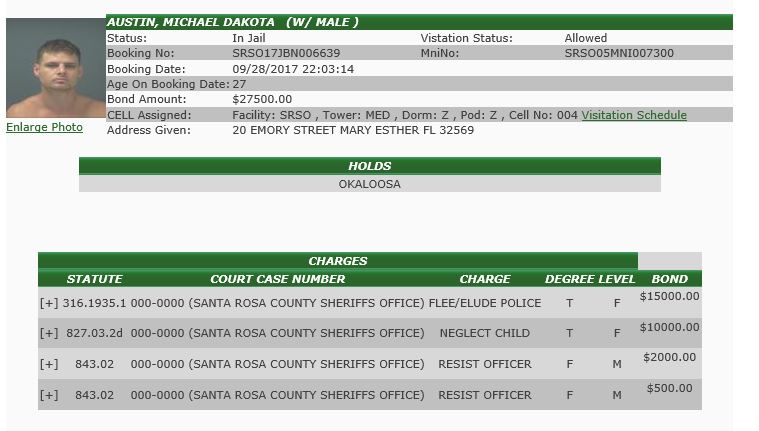 ORIGINAL STORY FROM AUGUST 11
Santa Rosa County Sheriff Bob Johnson this afternoon was traveling northbound on Hwy. 87 S when he initiated a traffic stop for a tag which had been expired for 13 years. But the suspect, Michael Austin, who remains at large, eluded Johnson, and a chase ensued.
Johnson was able to follow the suspect, who turned eastward onto Buckeye Drive in Holley. However, at the end of that dead end road, the suspect bailed out of the moving vehicle.
"He left the car rolling," Johnson told South Santa Rosa News, explaining that when the door came open he realized a female passenger was in the front seat and a special needs child was in the back seat, so he first ran to ensure the vehicle was stopped.
Johnson said the female passenger was successful in stopping the vehicle, so he continued the foot chase. However, because of the delay, the suspect was able to cross a creek and get into the woods.
Other deputies and K9 units responded to the scene, and a search of the community continues.
Austin is now wanted for felony child neglect, driving with a suspended license and resisting arrest without violence.
Anyone with information on the whereabouts of Michael Austin is asked to contact the Santa Rosa County Crime Stoppers Program at 850-437-STOP. There is a reward of up to $3000 for your anonymous information.