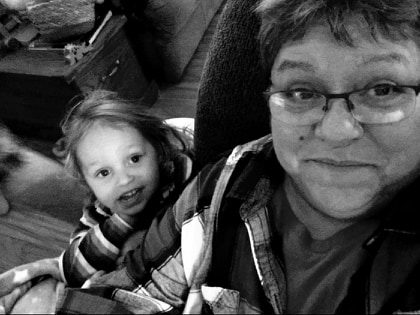 Watson pictured with her 2-year-old granddaughter, Daylin
TJ Watson, an employee of the Santa Rosa County Sheriff's Office, is battling breast cancer, and a letter-writing campaign and fundraiser has been organized to help her during this difficult time.
Surina Reynolds, who works in the SRSO purchasing department with Watson, is helping coordinate the effort.
"(TJ) had surgery on January 30, 2020 and has been out of work since. She is going through chemo now then will undergo radiation treatments," Reynolds said.
To help the situation, co-workers have been writing TJ letters, which are displayed on a table in the office.
"A note full of words of inspiration and kindness will lift her spirits and give her the strength to get through this tough journey," said Reynolds.
Additionally, donations are being accepted, and chances to win a quilted throw depicting the Snoopy cartoon character are being sold. Tickets are $1 each and may be purchased at the District 2 Office in Navarre, located at 8597 High School Boulevard, or the SRSO main office, located at 5755 E. Milton Road in Milton. All ticket purchases and donations will go to Watson.
Santa Rosa County Sheriff's Office Spokesman Sgt. Rich Aloy said co-workers are praying for Watson's recovery. "You can feel her kindness when you speak with her," he said.