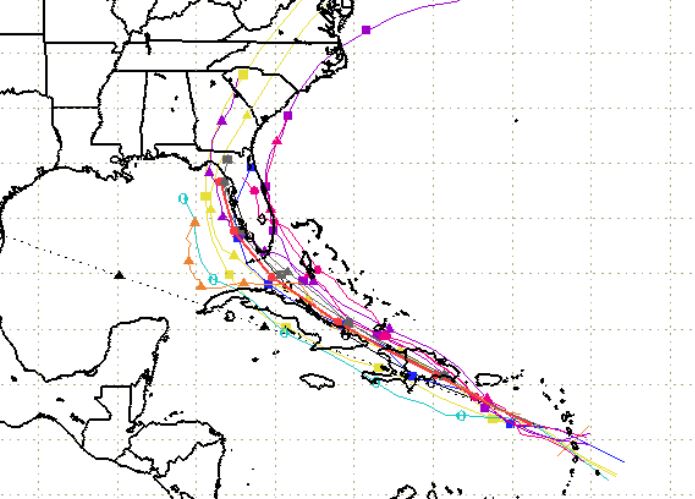 Graphic by South Florida Water Management District
The National Hurricane Center's 11 am AST (9 am CST) update indicates additional intensification is possible before Potential Tropical Storm 9 reaches Hispaniola tomorrow.
NHC Forecaster Dan Brown recommends Floridians monitor forecasts for changes to both the track and intensity, which he said are "likely." He said the storm is still expected to become Tropical Storm Isaias later today.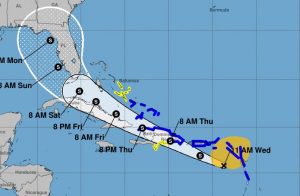 Graphic by National Hurricane Center (updated at 11 am AST/9 am CST)
Currently the EURO computer model indicates the storm could bust up over the mountains of Hispaniola and remnants could enter the Gulf. However, models have not yet been updated with this morning's NOAA hurricane hunter reconnaissance mission data.
"It still must be stressed that since the system lacks a well-defined center and remains in its formative stage, uncertainty in the specifics of the track forecast remain high in both the short and longer range. The latest NHC track foreast has been nudged slightly south of the previous advisory and lies between the latest ECMWF (EURO model) solution and the various consensus aids," said Brown.
At 11 AM AST (9 CST), the disturbance was centered near latitude 15.8 North, longitude 63.7 West. The system is moving toward the west-northwest near 23 mph, and this general motion with some reduction in forward speed is expected over the next few days. On the forecast track, the system will move near or over Puerto Rico
tonight, near or over Hispaniola on Thursday, and near or over the southeastern Bahamas on Friday.
Maximum sustained winds remain near 45 mph with higher gusts. Some increase in strength is forecast today, with weakening likely on Thursday due to land interaction, and some restrengthening possible late week.
Environmental conditions are expected to be conducive for additional development, and a tropical storm is forecast to form later today.
* Formation chance through 48 hours…high…90 percent
* Formation chance through 5 days…high…90 percent
Tropical-storm-force winds extend outward up to 275 miles primarily to the north and northeast of the center.
The estimated minimum central pressure is 1006 mb (29.71 inches).
A Tropical Storm Warning is in effect for the following locations:
Puerto Rico, Vieques, Culebra
U.S. Virgin Islands
British Virgin Islands
Antigua, Barbuda, Montserrat, St. Kitts, Nevis, and Anguilla
Guadeloupe, Martinique, St. Martin, and St. Barthelemy
Saba and St. Eustatius
St. Maarten
Dominican Republic from Cabo Caucedo eastward to Cabo Engano and then westward along the northern coast to the Dominican Republic/Haiti border
North coast of Haiti from Le Mole St Nicholas eastward to the northern border with the Dominican Republic
Turks and Caicos Islands
Southeastern Bahamas including the Acklins, Crooked Island, Long Cay, the Inaguas, Mayaguana, and the Ragged Islands
The storm is expected to being 4 to 8 inches, with isolated totals of 12 inches of rain across the Inagua Islands. These rainfall amounts could lead to life threatening flash flooding and mudslides, as well as potential riverine flooding, per NHC.