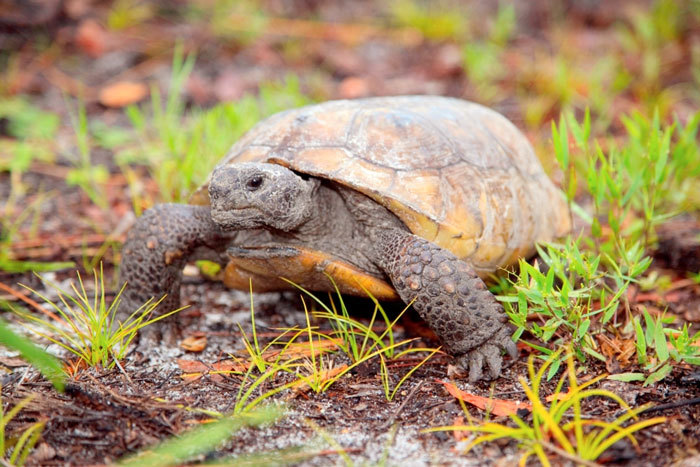 These gentle, slow-moving reptiles become more active in spring. You're more likely to spot them this time of year as they leave their deep burrows to search for spring greenery and, often, for a mate. Look for tortoises and their half-moon shaped burrow entrances in yards, neighborhoods, along roadways and on many of the state's private and public lands.
"When you help spread the word about gopher tortoise conservation, you're also helping hundreds of other native species," said Deborah Burr, who heads the FWC's Gopher Tortoise Management Program. "Their burrows provide important shelter to many other animals such as the gopher frog and the federally threatened Eastern indigo snake."
Anyone can help biologists with gopher tortoise research by using the gopher tortoise app to report sightings and observations of the species.
Gopher tortoises are found in all 67 Florida counties, but need plenty of sandy, sunny habitats with an open tree canopy to thrive and survive. The FWC's wildlife management area system, along with other public lands like state forests and parks, provide habitat for gopher tortoises. State and local government, non-profit organizations and private landowners also work with the FWC to help conserve and restore gopher tortoise habitat.
If you see a gopher tortoise crossing a road, you may pick it up and place it in a safe location along the roadside in the direction it was heading, but only do so if it is safe. Remember that gopher tortoises are a protected species. It is illegal to harm a gopher tortoise, its eggs or its burrow, to relocate without a permit, or to possess a tortoise, its eggs, or any parts of a tortoise.
More information on gopher tortoises is at MyFWC.com/GopherTortoise.