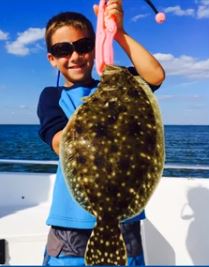 **SOUTH SANTA ROSA NEWS IS WORKING TO FIX TECHNICAL ISSUES WITH THIS POST
The Florida Fish & Wildlife Conservation Commission FWC will host two virtual flounder workshops to gather public input about management of the flounder fishery. The workshops will take place at 5 p.m. CDT today and June 4.
FWC's stock status update suggests that the flounder fishery statewide has been in a general declining trend in recent years and is likely overfished and undergoing overfishing on the Atlantic coast of Florida.
Click the following link to submit comments on the issue:
https://myfwc.com/fishing/saltwater/rulemaking/saltwater-public-comments/
Potential regulation changes
Reduce recreational bag limit from 10 to five fish per person.
Increase minimum size limit from 12 inches to 14 inches (recreational and commercial).
Establish a November closure (recreational and commercial).
Establish a commercial vessel limit of 150 flounder when using allowable gear.
Extend all FWC flounder regulations into federal waters.