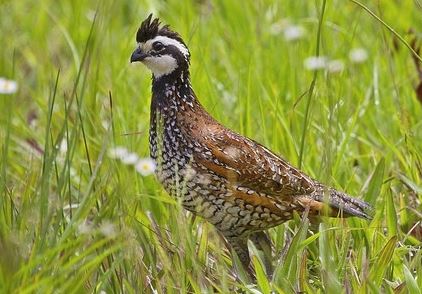 To help restore the state's northern bobwhite quail populations, the Florida Fish and Wildlife Conservation Commission (FWC) is asking private landowners to report sightings of bobwhite quail on their land.
Landowners can go to a new FWC webpage to record when and where they see northern bobwhite quail on their property:
Hearing bobwhite quail calls also qualifies as a sighting.
The information collected will be useful to biologists in the FWC's Landowner Assistance Program, who collaborate with private landowners on the restoration of bobwhite quail habitat. Bobwhite quail populations in Florida have declined by an estimated 82 percent over the past 50 years, primarily due to loss of habitat.
"I encourage landowners to get involved and let us know when you see or hear bobwhite quail on your land. The more landowners who decide to report their bobwhite quail sightings to the FWC's new webpage, the more data we will have on the current locations and abundance of bobwhite quail throughout the state," said Morgan Richardson, who heads the FWC's Landowner Assistance Program. "Your participation will help us improve our efforts to restore bobwhite quail populations in Florida."
The National Bobwhite Conservation Initiative in its State of the Bobwhite 2017 report mentions how FWC's private lands biologists "provided technical assistance and cost share opportunities to landowners, creating roughly 8,000 acres of new bobwhite habitat throughout the state – nearly doubling last year's acreage total."
More than 19 million acres of Florida's nearly 35 million acres are in private ownership. The land management practices encouraged by the FWC to maintain and restore bobwhite quail habitat include:
Planting low-density longleaf pine forests (less than 500 trees per acre).
Frequently doing prescribed burns.
Planting and maintaining field borders with native plants, providing food and cover for bobwhite quail.
The FWC wants to record sightings of wild quail, not pen-raised quail that are released for hunting. Sightings of bobwhite quail that are current or within the past year are preferred, but older sightings may be reported if the year and month are known.
Learn more about the Landowner Assistance Program at MyFWC.com/LAP where you can contact an FWC private lands biologist.
The FWC also relies on citizen scientists to report sightings of other species. Go to MyFWC.com/Get-Involved and click on "Citizen Science" and then "Sightings."