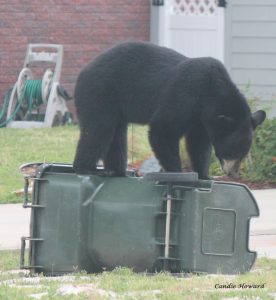 Florida Fish and Wildlife Conservation Commission officials at the January 10 Navarre Area Board of Realtors monthly luncheon presented helpful, proven ways to mitigate human-bear conflict.
To start off the presentation, FWC Biologist Jordan Green gave an overview of Florida's rising bear population. According to Green, Florida's black bear population had dropped to around 300 in the 1970s. Following a hunting ban in 1994, the population is now estimated at more than 4,000.
FWC Investigator Jarrod Molnar told attendees that most of the reported human-bear conflicts take place in Santa Rosa County. He said there are an estimated 120 bears in the local area.
Molnar recommended not calling FWC to report simple bear sightings but rather contact FWC if a bear doesn't appear fearful of humans.
Despite media reports of a January 9 incident in Naples in which Andrew Meunier was attacked by a bear, requiring 41 stitches to his head, FWC reports most bears are afraid of humans.
Green said bears are timid by nature. "Scare that bear," is the tactic he recommended. However, he offered tips on how to behave should a bear not run away.
"Do not run or play dead," Green said, suggesting instead to raise up arms as if to fight. He pointed out only 15 people in Florida have been attacked by bears since the 1960s.
During the presentation a video clip was shown depicting how an elderly woman successfully frightened off a bear by yelling at it and how a domestic cat chased a much-larger bear up a tree.
Bears climb trees when frightened, per the FWC website.
Removing food sources is the most effective way to mitigate bear interactions, per Green, who said 95 percent of the reasons for human-bear conflict is caused by humans leaving food sources outside, including unsecured trash cans, dog food and bird seed.
"Stash that trash" is tactic he recommends, advising homeowners to keep trash inside a garage until the morning of garbage collection, if possible. He said securing trash containers is another method.
Greene noted that Holley By The Sea homeowners' association recently applied for and was awarded a state grant to provide locks for the subdivision's roughly 3,700 trash containers.
As for relocating bears, Green said that isn't a viable option. "It can be 300 miles away, and the bear will return," he said, noting an exception is made when a bear is a threat to humans and requires trapping.