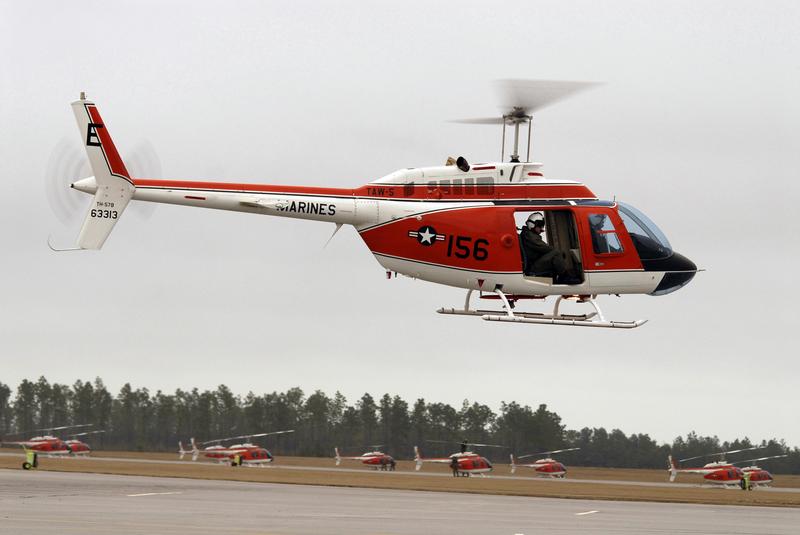 TH-57 aircraft at NAS Whiting Field in Milton (U.S. Navy photo)
Naval Air Station Whiting Field is the busiest air station in the world, and U.S. Representative Matt Gaetz on Monday hosted a Congressional field hearing aimed to protect the base, which injects $1.43 billion into Santa Rosa's economy.
The event brought together local, state and federal leaders, including Florida Senator Doug Broxson and House District 3 Representative Jayer Williamson.
Gaetz called NAS Whiting Field, which is located north of Milton, a "crown jewel" of the military mission in Northwest Florida.
Although the base recently celebrated its 75th anniversary, Gaetz cautioned against assuming the installation will be protected indefinitely.
"We shouldn't assume that because it is here and because we are proud of it, it will always be here," Gaetz said, pointing out that moving the base's training programs elsewhere would be "devastating" to Northwest Florida.
During the presentation it was noted that 1,200 pilots are trained annually at Whiting Field, which has around 1.5 million annual flight operations.
Broxson, who serves as chairman of the Florida Defense Support Task Force, said Whiting Field's flight operations are busier than Atlanta's Hartsfield Airport, the number one busiest airport by passenger traffic.
"Whiting is very important to us," Broxson said, noting intergovernmental cooperation sends a unified message to Washington.
Gaetz said such coordinated strategic efforts have "racked up" wins for Florida military installations, including more than $200 million in provisions for area bases via the 2019 National Defense Authorization Act.
However, despite a $10 million NDAA allocation for improvements to Whiting Field's North Field air control tower, newly hired Santa Rosa County Assistant County Administrator Mark Murray, Captain, U.S. Navy (Ret.), who formerly served as Commander of NAS Whiting Field Training Air Wing FIVE, stressed the importance of replacing the base's aging fleet of TH-57 aircraft.
Gaetz said the need to rebuild the military is a consequence of the 2013 budget sequestration.
"We have put in the National Defense Authorization Act a demand for the Navy to go and get a commercial off-the-shelf replacement. My expectation is we'll hear back from the Navy within a year," Gaetz said.