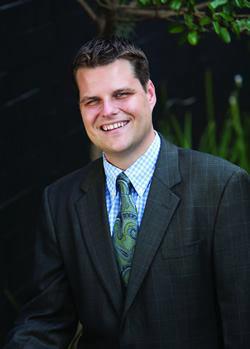 New U.S. Congressman Matt Gaetz told Santa Rosa County Commissioners on Thursday morning that he is sponsoring legislation to provide fee simple titles for Santa Rosa Island.
It's a move for islanders have requested for years and one which former Congressman Jeff Miller unsuccessfully attempted.
However, previous legislation had been tied to a Department of the Interior caveat that forbid reopening Navarre Pass, which had been located just east of Navarre Beach Marine Park.
According to Gaetz, a change in DOI administration could allow the legislation to move forward without precluding future reopening of the pass.
"My good friend Ryan Zinke will be taking over (DOI), and we will have 'substantial influence'," Gaetz said.
Additionally, Gaetz told commissioners that if he has an opportunity to include a provision which would authorize a future Navarre Pass he will "seize" it.
"It's no surprise to anyone here that I'm an advocate for Navarre Pass," Gaetz said. "It would make Santa Rosa County one of the wealthiest counties. We would be a fishing mecca."
Gaetz went on to say he is working with Senator Marco Rubio on the effort, and he expects the legislation to move through the house and senate soon.