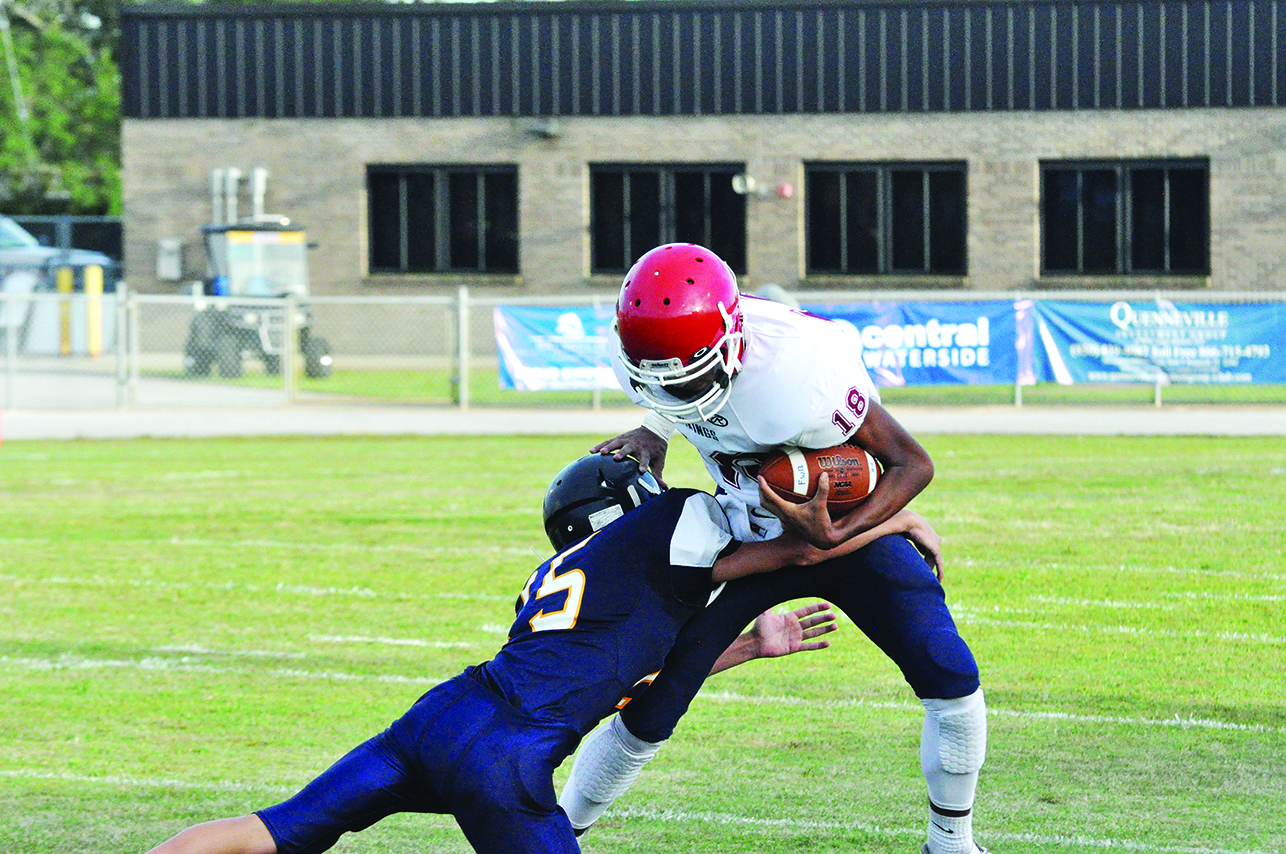 The Gulf Breeze High School Junior Varsity football team had a lot to think about last Friday night after they witnessed the freshman Dolphin football players sweep over Fort Walton Beach 6-0 in 12 minutes.
The Dolphin JV team had that same amount of time to make a mark on the hundreds gathered in "The Tank" watching last Friday night's Jamboree.
Twelve minutes to make a mark.
Ultimately, they did, outscoring the Viking JV team 14-0 in the short quarter they had to play them in.
And it didn't take long for the team to make a lasting impression on how much they've improved over the last year.
Fort Walton elected to start the quarter against the Dolphins on their own 35. The Vikings were able to sneak into Dolphin territory within the first 4 minutes, but only up to the 39-yard line.
Fort Walton's JV quarterback attempted to make a pass to a Viking at the Dolphin 40-yard line, but it was intercepted by Dolphin Jael Davis who carried the ball with him all the way to the Viking end zone. The 60-yard run put the first 6 on the board for the Dolphins, followed by a good point after.
Fort Walton was anxious to come back after the Dolphin touchdown, but were forced over on downs within their first 4 plays after the Dolphin turnover.
After the turnover, it didn't take long for the Dolphins to put another 6 on the board.
During the first play after the turnover, QB Cooper Harris made a quick pass to Spencer Segal who carried the ball 72 yards to the end zone with little Viking defense to avoid.
The touchdown and point after put the Dolphins up 14-0 over the Vikings with 4:50 left in the quarter.
Following the touchdown, the Vikings seemed determined to put some points on the board before the quarter was over.
The Vikings started on their own 35-yard line after the Dolphin touchdown, but Ft. Walton's quarterback dropped the ball after the snap, forcing him to fumble the ball backwards. The mistake pushed the Vikings back to their own 25 yard line.
Two penalty flags against the Vikings pushed them back even more, and a hand-off to Clarence Ross through a blockade of Dolphins forced the Vikings to turn the ball over to Gulf Breeze with a little less than 1 minute remaining.
Gulf Breeze didn't have much time to put more points on the board as the short quarter was a running clock game.
The Dolphins started the turnover on their own 40 yard line and were able to push it to mid-field before the buzzer signaled the end of the game.