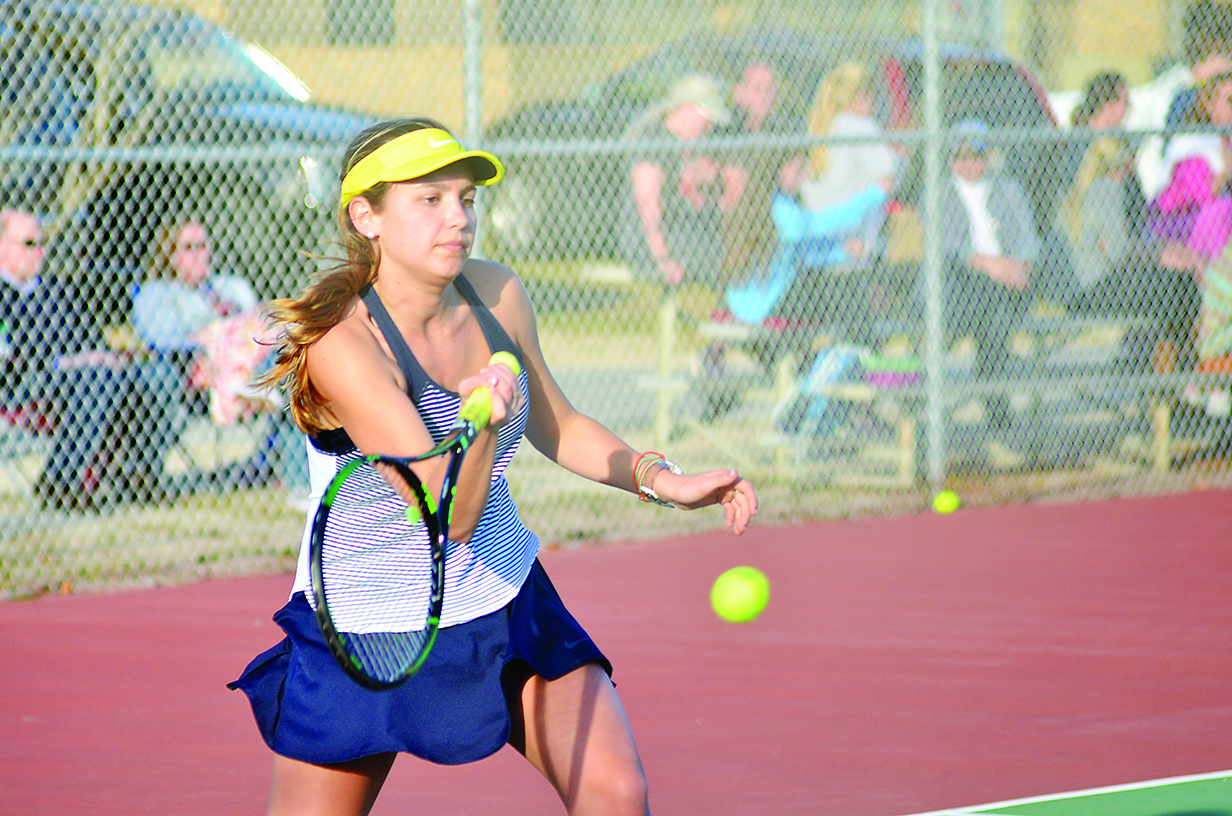 The Gulf Breeze High School tennis team swept Pace High School 7-0 in both the girls and boys teams last Monday for the second time this season, extending the Dolphins' unbeaten district record.
Boys
Singles
Gulf Breeze No. 1 Hayden Essary had one the longest singles match of the day when he came away with a nail-biter victory over Sean Ennis 9-7. The match was a completely different result than the first meeting between the two athletes last month on Feb. 8, which resulted in a dominating 8-1 win for Essary.
Joel Boles faced off against A.J. Robinowitz in the No. 2 match, doing well to stay focused in order to pull out the 8-5 win for Gulf Breeze. Collin Scheufler took on Pace's No. 3 Logan Brabham, defeating him 8-2 to contribute another point to the boys' team.
Sky Hanes brought Gulf Breeze's score to 4-0 when he made quick work of Michael Ennis 8-1 in the No. 4 game. Gulf Breeze No. 5 seed Brenton Byrd finished up the boys' singles matches by sweeping Michael Batterton 8-0.
Doubles
Essary and Boles continued their winning streak into the doubles matches, having a much easier time against Ennis and Rabinowitz when the top two Gulf Breeze players teamed up. Despite an early lead, Rabinowitz and Ennis had problems handling the offensive net play of Essary, as well as the deep precision shots from Boles. The strong combination allowed the Dolphin duo to fight their way back from a 2-0 deficit and take the match 8-3.
Scheufler and Hanes faced off against Brabham and Batterton and quickly swept the No. 2 doubles match 8-0 in a decisive victory.
Girls
Singles
No. 1 seed Caroline Scheufler swept the court 8-0 in a solid display against Pace's Alyssa Lampitoc. Maddie Bookout took on Kim Clemons in the No. 2 match and walked away with an 8-1 victory. Grace Allen and Lauren Dulay battled for the No. 3 match, finishing with a 8-1 scoreline that gave the Lady Dolphins' their third win of the day.
Marley Taylor and Mary Miles Hitchcock secured the win for Gulf Breeze with a pair of 8-2 victories over No. 4 Maddie Knor and No.5 Olivia Surel.
Doubles
Scheufler and Bookout had a much more difficult time in the No. 1 doubles match against Lampitoc and Clemons. The Pace pair was keen on contesting every game, but only succeeded on slowing down the inevitable 8-2 Gulf Breeze victory.
Allen and Taylor easily finished off the meet for the girls' team with an 8-1 landslide victory over Knor and Surdel, who failed to hang in the match after being up 1-0 after the first game.
After returning from McGill-Toolen Girls Tournament this weekend, Gulf Breeze will focus on the two remaining conference matches before the start of the District 1-3A Championships on Mar. 28.