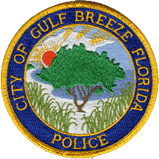 Gulf Breeze Police is warning residents of an ongoing scam regarding a fee for local middle school students.
The message, which has numerous grammatical errors, has been sent around to local residents. The message states that students enrolled in the "santarosa middle school system" have to pay $100 per semester as part of a usage fee. The statement reads: "For us to not send us you an email later and to make it easier you you and us, we recommend you pay a $200 fee right now".
Gulf Breeze Police posted the phony letter to their Facebook page Wednesday, taking a stab at the spelling and grammatical errors in the scammer's letter.
"This is a scam! DO NOT send these people money for 'computors'. Clue, the scammer is not spelling correctly," the GBPD post read.
GBPD is urging residents who received this letter to ignore it.
"Always be weary of 'non-spellers' asking for money!," their Facebook post read.