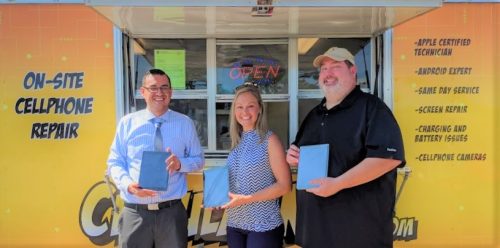 Cellular Nerd Owner Eric Vines with Brandi Hook, co-founder of The Starfish Project, and TJ Goulet, president of The Rotary Club of Navarre and CEO of the Greater Navarre Area Chamber of Commerce.
The Rotary Club of Navarre has partnered with Cellular Nerd Owner Eric Vines to provide 15 free iPads for local non-verbal children in need. The iPads will be distributed Saturday, August 3 in Navarre by The Starfish Project, which helped facilitate the effort, which will be ongoing.
Vines first began providing special needs children with free devices after gifting an iPad to a family with an autistic child.
"I had no idea the impact it made. The father came back to thank me, and by the end of the conversation we were both in tears," Vines said.
Since that time Vines' mobile cellphone repair company has grown considerably. He now has satellite offices in Navarre at East River Smokehouse and the exchange on Eglin Air Force Base.
So now he wants to give more to help special needs families, and during a recent presentation for The Rotary Club of Navarre his generous spirit caught on. The Club decided to join Vines' effort, pitching in to cover the cost of 10 iPads for a total of 15.
The Starfish Project, a local nonprofit organization aimed to improve the lives of special needs children and their families, was asked to help locate 15 special needs families to receive the iPads.
"We put it out for the community for any child who can't communicate verbally," said Brandi Hook, co-founder of The Starfish Project, noting they accepted applications and reached out to therapists to ensure the iPad was something the child did need for the use of communication and language acquisition.
Additionally, The Starfish Project on August 24 will be hosting Navarre's 2nd Annual Wing-Off, a fundraiser for the organization which allows cooks, chefs and businesses to showcase their best chicken wings.
For a $10 wristband, attendees can sample wings and pick their top three. There are prizes for the winners, but the biggest winners will be the clients served by The Starfish Project.
The Rotary Club of Navarre also stepped up to sponsor and participate in that event.