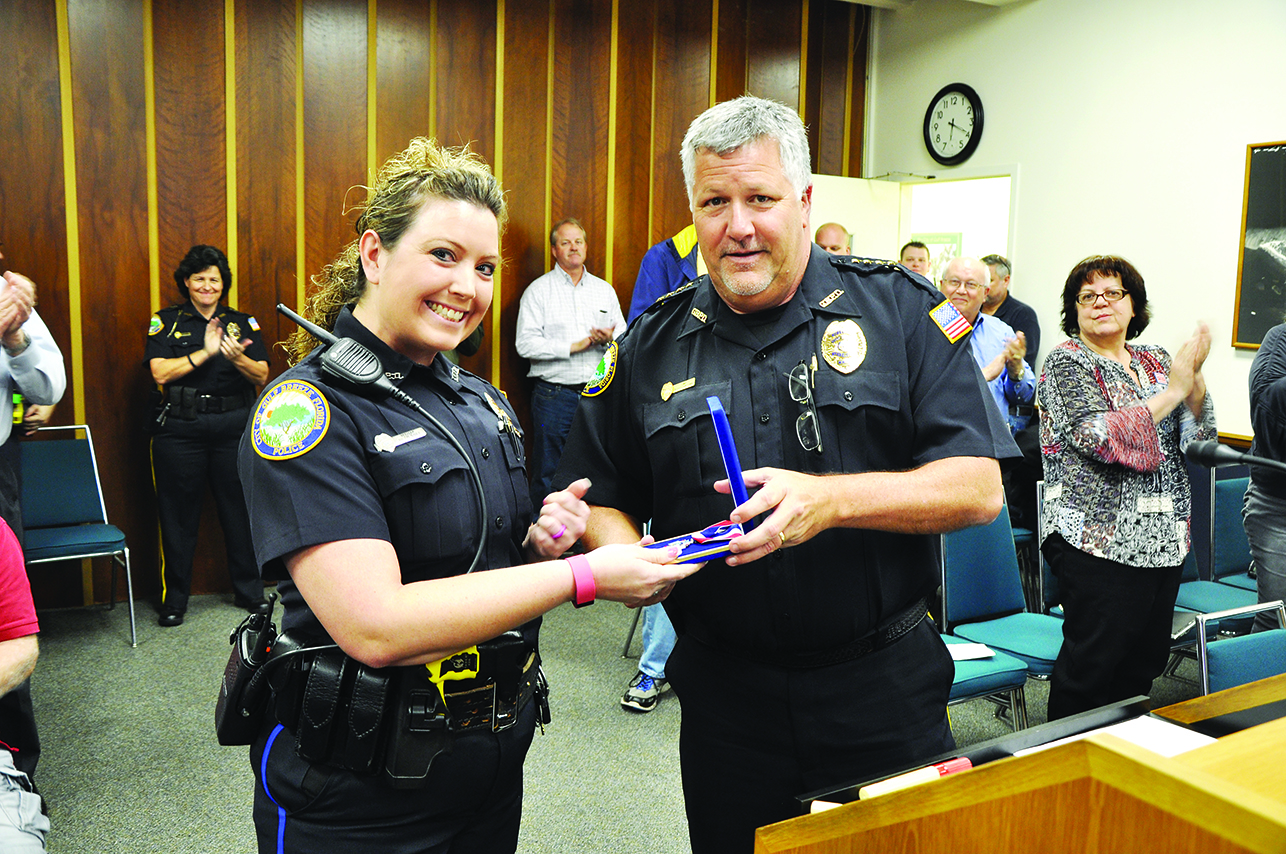 Gulf Breeze Police Officer Beth Goff was recognized at the Tuesday night City of Gulf Breeze City Council meeting as the GBPD Officer of the Year for 2016.
Goff was nominated by her peers at the station via the department's Employee Recognition Committee.
Goff became a full time officer with GBPD in September 2014 after beginning her law enforcement career as a crime analyst for the Florida Department of Law Enforcement.
Gulf Breeze Police Chief Rick Hawthorne praised Goff for her willingness to go above and beyond the call of duty on a regular basis.
"Officer Goff's dedication and willingness to help out her fellow officers in any way possible was mentioned in almost all of her nominations," Hawthorne said. "Officer Goff made it a priority to return all service calls, and to follow through with all cases from the initial complaint intake to the completion of the investigation."
Hawthorne also complimented the officer regarding her investigative knowledge she obtained by working at FDLE and how she uses that knowledge to give the GBPD an advantage over surrounding law enforcement agencies.
"She has also assisted…fellow officers in investigating criminal complaints using her knowledge learned as a crime analyst with FDLE. She is always willing and ready to assist anytime it is needed," Hawthorne said.
At the city council meeting, Goff was awarded the medal for the 2016 Gulf Breeze Police Department Officer of the Year, but was also given a Letter of Recognition from the city council. The recognition was signed by all members of the council.
"There's not one specific instance she's taken care of. It's everything. From January 1 to Dec. 31, she was non-stop," Hawthorne said. "If someone needed assistance, she jumped right in. She didn't even ask. She jumps in for everything. If it needs to be done, she's going to do it."