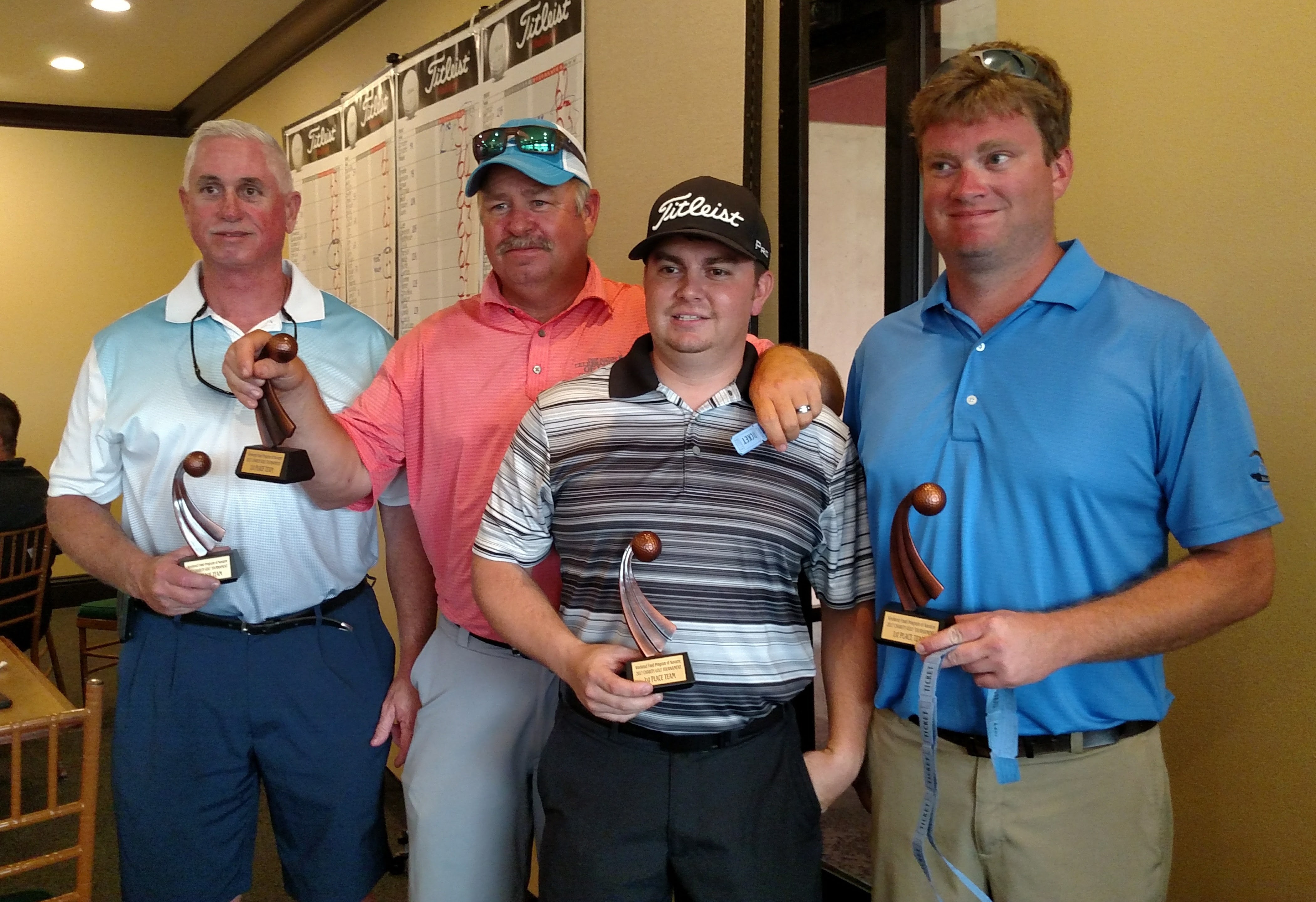 Congratulations to the Santa Rosa Sheriff's Office team, which won the tournament! Players included (left to right): Randy Tifft, Jimmy Cotton, Kyle Gillman and Steve Bobe
Weekend Food Program Co-Director Michelle Abrams is pleased to announce that $12,626 was raised at last weeks Weekend Food Program Inaugural Charity Golf Tournament held at The Club at Hidden Creek in Navarre, FL on Friday, July 14th. Just under 130 golfers teed off at 9 AM and a great time was had by all.
Congratulations to the Santa Rosa Sheriff's Office team which was sponsored by Rotarian Jon Kagan of Soundside Wealth Advisors and won the tournament.
Abrams especially wanted to thank the players for sticking with the tournament after heavy rain and flooding on the course forced the tournament to be rescheduled from the original June 23rd date. She also thanked all the volunteers that make an event like this possible and the over 50 businesses, individuals and organizations that donated money and prizes for the event.
Headline sponsors for the tournament were Mojo Sportswear Company @ Destin Commons, Holley-Navarre Water System. American Legion Post #382 and The Club at Hidden Creek. Breakfast was provided by Sail Inn Grill and lunch was provided by Navarre Drywall and Dirt Road Cookers with beverages being provided by Buffalo Rock Pepsi, Walmart Navarre, Keichel Cookies and Rooter-Man of NW Florida.
Weekend Food Program is a 100% volunteer run program that feeds 400 plus children in Navarre each week during the school year – half of which are in kindergarten, first and second grades. 100% of the money raised goes towards the purchase of food for the kids. If you weren't able to participate but would like to give you can donate anytime at www.WeekendFoodProgram.org