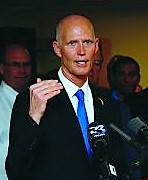 Florida Governor Rick Scott today announced a major action plan to keep schools safe in the wake of the Parkland shooting tragedy. The plan calls for a $500 million Investment in School Safety and Mental Health.
Gov. Scott started the announcement by reading off the names of the 17 victims: Alyssa Alhadeff, Scott Beigel, Martin Duque Anguiano, Nicholas Dworet, Aaron Feis, Jamie Guttenberg, Chris Hixon, Luke Hoyer, Cara Loughran, Gina Montalto, Joaquin Oliver, Alaina Petty, Meadow Pollack, Helena Ramsay, Alexander Schachter, Carmen Schentrup, Peter Wang.
"Unfortunately, none of the plans I'm announcing today will bring any of them back, but it's important to remember them. The seventeen lives that were cut short and all the hopes and dreams that were ruined have changed our state forever. Florida will never be the same," he said.
Gov. Scott said he will be working "aggressively" with the legislature over the next two weeks to get it done.
"This week we asked law enforcement leaders, education leaders, and health leaders from all over the state to drop what they were doing, clear their schedules, and immediately get up to Tallahassee for urgent conversations about what we can – and must do – to make our schools and communities safer. We must take care of our kids. I can tell you that everyone said yes, and they came, and they got to work. I have also spent a lot of time in Parkland meeting with families and students. I've been there nearly every day since the shooting. I have listened to their ideas to make sure this never happens again. I also met with students who courageously came to Tallahassee to have their voices heard. What we saw in this building on Wednesday is what our democracy is about and why we live in the greatest nation on earth. My message to them has been very simple – you are not alone. Change is coming… and it will come fast," Scott said.
Per Scott, his action plan is broken down into three sections: gun laws, school safety and mental health.
First, Gov. Scott addressed guns, stating "I want to make it virtually impossible for anyone who has mental issues to use a gun. I want to make it virtually impossible for anyone who is a danger to themselves or others to use a gun. I want to create a new program in Florida – I call it the Violent Threat Restraining Order. This concept is very simple, and very common sense in my view."
According to Scott, this will allow a court to prohibit a violent or mentally ill person from purchasing or possessing a firearm or any other weapon when either a family member, community welfare expert or law enforcement officer files a sworn request, and presents evidence to the court of a threat of violence involving firearms or other weapons.
Scott pointed out the warning signs which preceeded the Parkland event. "Let's review the warning signs here… he had 39 visits from police, his mother called him in, DCF investigated, he was kicked out of school, he was known to students as a danger to shoot people, and he was reported to the FBI last month as a possible school shooter. And yet, he was never put on the list to be denied the ability to buy a gun, and his guns were never removed from him.
"Also, we will require all individuals purchasing firearms to be 21 or older," Scott said, pointing out there will be exceptions for active duty and reserve military and spouses, National Guard members, and law enforcement.
Additionally, Scott said there will be prohibitions to a person from possessing or purchasing a firearm if they are subject to an injunction for protection against stalking, cyberstalking, dating violence, repeat violence, sexual violence, or domestic violence.
Furthermore, Scott said officials will work to establish enhanced criminal penalties for threats to schools, like social media threats of shootings or bombings. We will also enhance penalties if any person possesses or purchases a gun after they have been deemed by state law to not have access to a gun.
"And, we will completely ban the purchase or sale of bump stocks," he said.
Per Scott, the second part of his action plan provides $450 million to keep students safe.
"Today, I am calling for a mandatory law enforcement officer in every public school. These law enforcement officers must either be sworn sheriff's deputies or police officers and be present during all hours students are on campus," Scott said, noting that he is proposing at least one law enforcement officer for every 1,000 students, starting during the 2018 school year.
School districts must also take all capital outlay funds received from taxpayers and use it for school hardening before it can be spent on any other capital outlay. All safe school allocations must be spent in accordance with the sheriff approved plans.
Plans were also announced to establish a new, anonymous K-12 "See Something, Say Something" statewide, dedicated hotline, website and mobile app.
Lastly, funding will be allocated to require access to dedicated mental health counselors to provide direct counseling services to students at every school. These counselors cannot serve dual roles, like teaching or academic advising.
"Every student must have the opportunity to meet one-on-one with a mental health professional, and receive ongoing counseling as needed," Scott said.