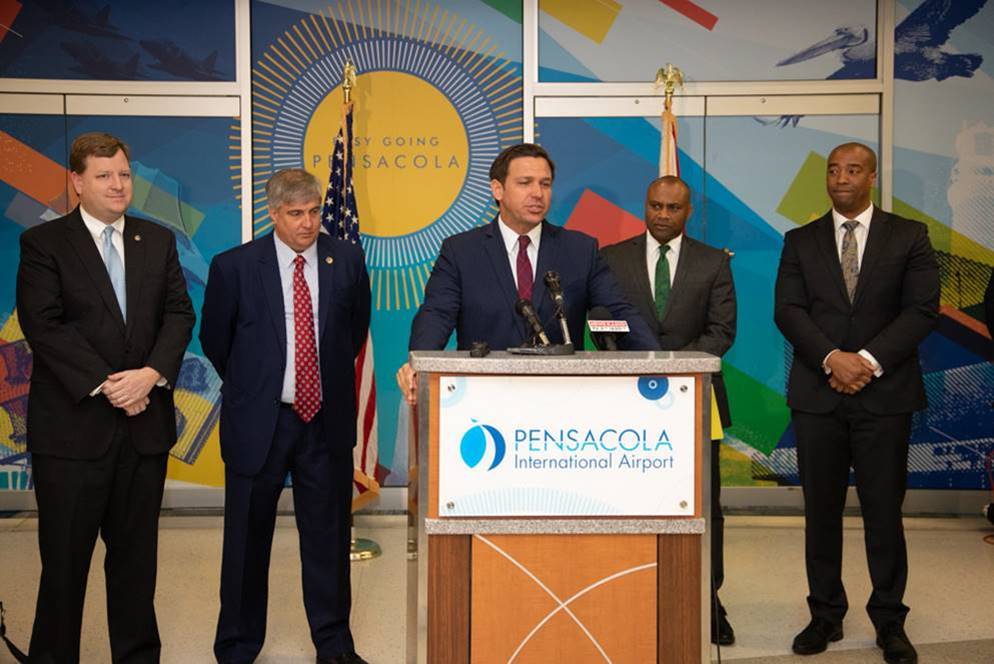 Photo credit Governor's Press Office
Governor Ron DeSantis on Wednesday announced he is awarding nearly $5 million to the city of Pensacola for infrastructure enhancements to the Pensacola International Airport through the Florida Job Growth Grant Fund.
"Pensacola has worked for years to bring the aviation maintenance and repair industry back to the city like it once was years ago," said Governor DeSantis. "This investment in Pensacola International Airport's infrastructure will allow them to support a significant expansion of state-of-the-art hangers and other development so the city can finally reach their goal."
The funding will assist with the construction of necessary taxiways, ramps and flatwork so that the airport can support additional Maintenance, Repair and Overhaul (MRO) facilities and other development. In particular, the new infrastructure will allow the Airport to support ST Engineering's plan to build one of the biggest MRO operations in North America. ST Engineering's plan, known as "Project Titan," will bring three additional MRO hangars to the Airport and create over 1,300 new jobs.
Once fully complete, the state-of-the-art maintenance campus will consist of four aviation repair hangars, office buildings, warehouse facilities, supporting aprons and other site developments. The expansion of Pensacola Airport and this MRO campus would not be possible without the collaboration of many stakeholders. Significant investment has been made through previous state investments, from the private sector, Florida Department of Transportation, Escambia County, Triumph Gulf Coast and others.
"I would like to thank Governor DeSantis for his commitment to strengthening Florida and the city of Pensacola," said Senator Doug Broxson. "Projects like these bring growth and prosperity to the region. With this award, the Pensacola International Airport will be able to expand its footprint in the aviation industry and better serve those traveling into the state of Florida and throughout the United States."
The Florida Job Growth Grant Fund is an economic development program designed to promote public infrastructure and workforce training across the state. Proposals are reviewed by DEO and EFI and chosen by the Governor to help meet workforce or infrastructure needs in the community to which they are awarded.
Since July 2019, DEO and EFI have received 89 proposals requesting more than $286 million in funding. Today's announcement reflects a total of more than $185 million in funding awarded to 56 communities across the state since the Florida Job Growth Grant Fund was established.
In 2019-20, $40 million in awards are available for projects that focus on rapidly developing a highly-skilled workforce and on infrastructure initiatives that attract businesses, create jobs and promote economic growth. DEO and EFI are currently accepting proposals. For more information, visit Floridajobs.org/jobgrowth.