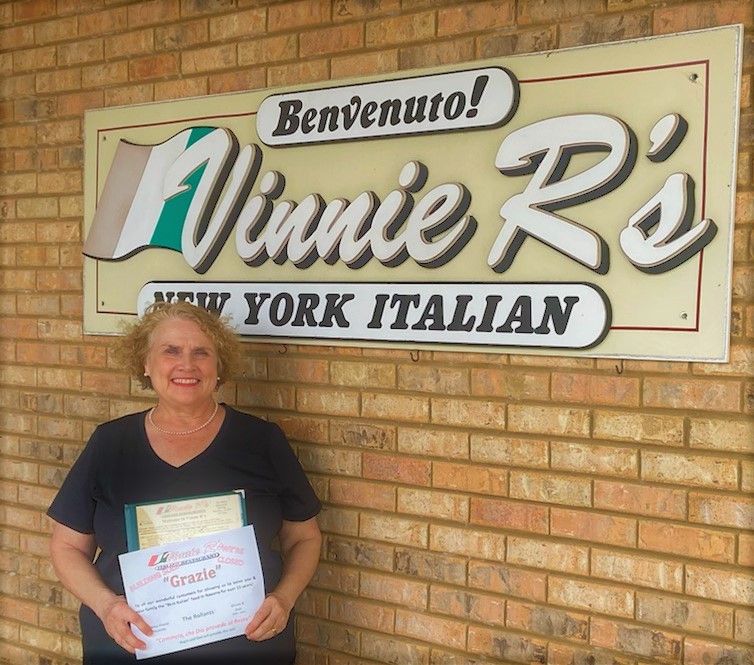 Paulette Rollant, affectionately known around Navarre as "Ms. P," has sold the building which housed the restaurant she and her late husband opened 15 years ago. Photo by Romi White
After 15 years in business, Paulette Rollant is closing Vinnie R's New York Italian Restaurnt, located in Harvest Village Professional Park in Navarre.
"Thank you to the faithful customers who have been supporting Vinnie R's for 15 years," she told South Santa Rosa News on Tuesday morning.
That love was especially palpable toward local sports teams, including the Navarre High School football and baseball teams.
Following the passing of her husband, Dan, in 2011, she established the Navarre High School Daniel V. Rollant Memorial Scholarships as a tribute to him, his love for baseball and his support of the Navarre High School baseball team and field. Each year two baseball students who demonstrated a balance between academics, athleticism, family life, community service and self received $1,000 scholarships in his memory.
It was a fitting tribute, considering she met her late husband on a blind date at a baseball game in 1972 in Pittsburgh.
The couple went on to marry and open the popular Navarre eatery, but many don't realize that the woman who became affectionately known around Navarre as "Ms. P" is actually Dr. Rollant, PhD. Rollant earned a doctorate in education and has an advanced nursing degree.
Although she is closing the restaurant, she plans to stay local and continue operating her consulting company, Rollant Concepts, Inc.
Rollant has been tutoring for three decades, noting she has a 98 percent success rate helping students, particularly those in nursing programs, pass multiple-choice tests. It's a job which has taken her to the Phillipines and, more recently, Colorado.
As she turns over the keys today to the new owner, she reflects back on the business with a smile.
"I've enjoyed it. I love everybody," she said.
History of Vinnie R's – courtesy Paulette Rollant
In 1985……Vinnie R's was founded in Newnan, Georgia as C&D Pizzeria and originally located on HWY 29 North in the present location of a 'new' gas station with a stop light. In 1989 we, Paulette & Dan, purchased the business while located by Farmers Furniture on Bullsboro Drive.
In 1991 we moved C&D's to the old Belk's Shopping Center [now Food Depot] and had dine-in, take-out, delivery. C&D continued to grow and make a name for itself.
In 1996……..we moved the restaurant to Highway 34 East & changed the name to "Vinnie R's — New York Italian Restaurant." "Vinnie" is taken from Dan's middle name and his Dad's first name Vincent. "R" is taken from our last name Rollant. We also changed the name because we served much more than pizza — Great pasta, "YANKEE" subs, salads.
In May 1999 we opened Vinnie R's Express, also in Newnan, on HWY 29 North. Located in the former OLD Madras country store, this location had been everything from a post office to a gas station to a hardware/feed store. It served many loyal OLD customers from the ORIGINAL C&D HWY 29 days as well as new comers. The Express was pick-up and delivery only. [In 2003 the store had been leveled]
In 2002 both sites were sold to a local Newnan family whose son now ran the businesses until a 2010 when they closed.
In 2003…… Dan, after a year in "retirement" and traveling with Paulette as she taught internationally and nationally, decided he missed "the business." Paulette agreed and missed "NOT cooking at home."
So in February 2004 a "New Vinnie R's" was born. There was a year of building the restaurant with bumps and hiccups.
In January 2005 we finally opened the door here at Navarre with a practice run for the St. Sylvester Catholic Church building fund and continue to have this dinner for donations every last week in January!
Sadly in December 2011 Mr. Vinnie – also known as "Mr. Dan" died unexpectedly. However, Mrs. Vinnie, Paulette, continues to own and run Vinnie R's. A Dan Rollant Memorial Fund in Dan's honor has been set up at the Navarre High School Baseball Booster Club for support of the baseball field and yearly scholarships for a few graduating baseball players. Dan and Paulette loved baseball to spend many days at Spring Training games. If you come by to dine, be sure to stop by to see a Memorial Wall set up in the restaurant to highlight Mr. Vinnie's favorite activities of napping, baseball, fishing and reading the paper & catching the "Great Grouper" that matches his shirt!