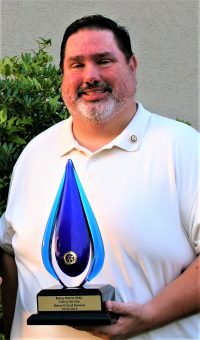 TJ Goulet, president of the Navarre Rotary Club, has been named the new President/CEO of the Greater Navarre Area Chamber of Commerce. Goulet is pictured with the Rotary Club of the Year Award which was presented to the club for the 2015-2016 year
The Greater Navarre Area Chamber of Commerce is pleased to announce that TJ Goulet has been chosen as the Chamber's new President and CEO.
The chamber's board of directors led by Chairman Jon Kagan, met December 21 and voted unanimously to bring Goulet on board effective Jan 1, 2018.
"I am honored and thrilled to join the Greater Navarre Area Chamber of Commerce. Navarre is a community on the rise and the Greater Navarre Area Chamber is positioned to be a great resource to business leaders and entrepreneurs to continue Navarre's growth," said Goulet. "I look forward to working closely with the Chamber's Board, Volunteers and Members to build on the tremendous work of outgoing CEO Tony Alexander and continue to grow our organization and promote local business interests."
Incoming CEO TJ Goulet has extensive business experience, having founded seven new companies in his professional career, ranging from industrial sales to insurance and advertising sales.
He also won several managerial awards and was named one of the Top 10 Regional Sales Coordinator's in the United States for AFLAC Insurance in 2004. He has launched two dotcom companies, including one of the first online directory companies offering mobile coupons.
Goulet currently owns a Digital Marketing and Business Consulting Firm that works with several small and medium sized businesses locally and in SE PA/MD/DE providing digital marketing, sales management and business consulting services.
In addition to his business endeavors, TJ currently serves as the President of Rotary Club of Navarre and works with several local youth charities, including the Navarre Weekend Food Program, My Father's Arrows and the Navarre Beach Marine Science Station.
Additionally, TJ has raised money for several other local non-profits that serve children and military families through charity golf tournaments and donated and maintains the website for the Holley-Navarre Fire District.
Board Chairman Jon Kagan said, "We couldn't be more excited to have TJ on board. His strong background in business development and extensive marketing and relationship building skills will be a tremendous asset to our Members. I have known TJ for several years and have seen the impact he can make on an organization and see great things ahead for the Chamber and Navarre!"
About the Greater Navarre Area Chamber of Commerce (Greaternavarrechamber.com)
The Greater Navarre Area Chamber of Commerce, a grass roots effort, was incorporated with the state of Florida Division of Corporations August 1, 2016 and serves as a partner and advocate for Business, Education, Economic Development, Workforce Development, Tourism and the Military in Santa Rosa County.
Individuals, Businesses and Organizations are encouraged to join and help to establish the chamber as the resource for growth in the greater Navarre area. The chamber is a Member of the Florida Chamber of Commerce, the Santa Rosa Legislative Coalition and the Navarre Area Board of Realtors.
For information on joining the chamber visit www.greaternavarrechamber.com.