TOURISM DIRECTOR TO SPEAK AT CHAMBER BREAKFAST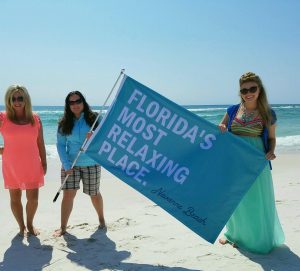 Leading up to the start of the 2017 tourist season, Santa Rosa County Tourist Development Director Julie Morgan, left, will be guest speaker at the March 24 Greater Navarre Area Chamber of Commerce's monthly breakfast.
Morgan will discuss the booming local tourism industry and latest news, including how Santa Rosa County Commissioners recently approved marketing Navarre Beach as "Florida's Most Relaxing Place."
Previously the county has been marketed as "Florida's Playground" and before that as "Florida's Best Kept Secret," a tagline which still appears on the current Navarre Beach Bridge. According to Morgan, however, that sign and other signage on the beach will soon be updated.
"We're working now to create design concepts for all the new signage so it's uniform in Navarre and on the beach," Morgan told South Santa Rosa News.
The breakfast will take place Friday, March 24 at the Navarre Conference Center, located at 8700 Navarre Parkway. Registration begins at 7:30 a.m., and the presentation starts at 8 a.m. The event features door prizes and a catered breakfast. Cost is $10 for members and $15 for others. RSVP at rsvp@greaternavarrechamber.com.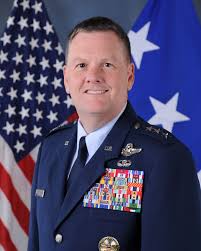 MILITARY APPRECIATION BREAKFAST REGISTRATION UNDERWAY
The Greater Navarre Area Chamber of Commerce and Navarre Area Board of Realtors are now taking reservations for their 1st Annual Military Appreciation Breakfast scheduled for Thursday April 27 at the Hurlburt Soundside Club.
"You will not want to miss our guest speaker," Tony Hughes, chairman of the chamber's military affairs council, said, explaining Lt. General Brad Webb is commander of Air Force Special Operations Command and the "highest ranking military officer in our area," commanding more than 20,000 active duty, Reserve, National Guard and civilian personnel.
According to Hughes, Webb was wing commander at the 1 SOW at Hurlburt in 2007-2008. "In fact, I believe this is his 7th assignment at Hurlburt over his 33-year career in the Air Force. Prior to his command at AFSOC, Gen. Webb was the commander of NATO Special Operations Headquarters in Mons, Belgium, so he can also give us a unique view of NATO as well as current AFSOC operations," Hughes said.
Hughes said the doors will at 7:30 a.m., and the event will begin promptly at 8:00 a.m. Also, all attendees must register and pay in advance. "No money will be taken at the door," said Hughes, adding, "the $20 admission will help cover the expense of approximately 35-40 military heroes who will also be attending the event free of charge."
Additionally, Hughes said those interested in attending must provide their full name, date of birth and driver's license number by April 13 if they do not have existing base access. RSVP at rsvp@greaternavarrechamber.com.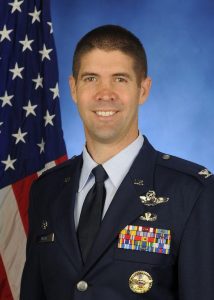 33RD WING COMMANDER GUEST SPEAKER AT MILITARY AFFAIRS COUNCIL
The Greater Navarre Area Chamber of Commerce's next Military Affairs Council meeting will take place March 21. Col. Lance "Shudda" Pilch, commander of the 33d Fighter Wing at Eglin will be the guest speaker.
"As you know, the 33d Fighter Wing gave birth to the F-35 program and still fills an important role in training the Air Force's F-35 pilots as well as pilots for the Air Force, Navy, Marine Corps and all our partner nation's F-35 maintainers," said MAC Chairman Tony Hughes.
The F-35 is in the news all the time and I am sure you have heard the press slam the airplane for its cost and production delays, and I hear the questions asked all the time 'Is the airplane worth it?' I think Col. Pilch is the perfect person to answer that question," Hughes said, pointing out that Pilch began his Air Force career as an F-16 Viper pilot, then flew the F-22 Raptor and commanded a combat coded F-22 Operations Group in Alaska before taking command of the 33d Fighter Wing at Eglin almost two years ago. "So he can clearly compare and contrast the F-35 against the F-16 and F-22."
The MAC meeting lunch begins at 11:30 a.m., Tuesday, March 21 and takes place at Beach Community Bank, located at 9290 Navarre Parkway. RSVP at rsvp@greaternavarrechamber.com.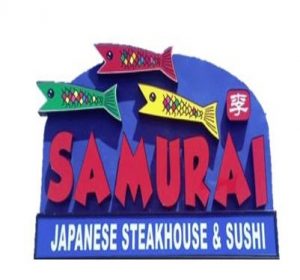 LUNCH FOR A CAUSE
The Greater Navarre Area Chamber of Commerce and Samurai Japanese Steak House and Sushi are joining forces to host a great lunch benefiting Weekend Food Program Navarre.
Diners will be treated to their choice of steak, chicken, or shrimp hibachi for only $20.00. All money collected will be donated the Weekend Food Program Navarre," said Tony Alexander, chamber CEO.
According to Alexander, more than half of the 80 seats available for this event have already been sold. "Don't wait to purchase your tickets until it's too late," he said. RSVP at rsvp@greaternavarrechamber.com.