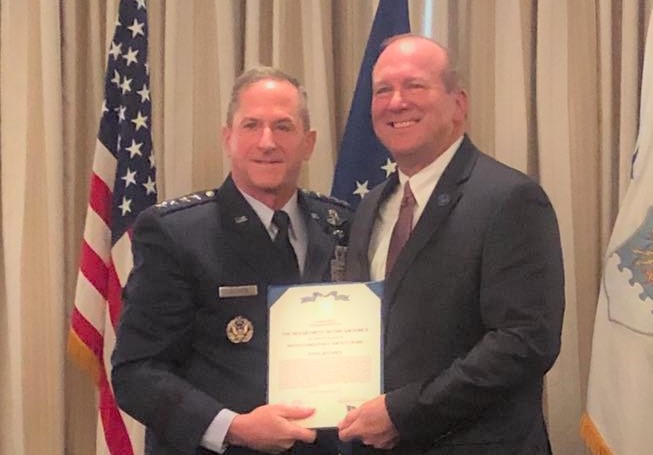 Tony Hughes, chairman of the Greater Navarre Area Chamber of Commerce's Military Affairs Council, recently was presented with the Air Force's highest citizen award for public service.
Gen. David L. Goldfein, Chief of Staff of the U.S. Air Force, presented Hughes and three other graduates of the Air Force Civic Leaders program with the Department of the Air Force's Distinguished Public Service Award during a three-day conference at Joint Base Andrews and Dover Air Force Base.
Hughes was the representative for Air Force Special Operations Command and Hurlburt Field.
Other program graduates included: Lee Webber, representing Pacific Air Forces and Anderson AFB, Guam; Frank Cioffi, representing Burlington Air National Guard Base, Vermont and the National Guard Bureau; and Michael Bidwill, representing Headquarters, Headquarters Air Force and Luke AFB, Arizona.
Additionally, during the visit, the roughly 40 civic leaders met with Secretary of the Air Force Heather Wilson and other senior military officials.
Secretary Wilson and Gen. Goldfein both expressed their gratitude for the civic leaders and their support of the Air Force.
"Civic leaders, you are part of this family," Goldfein said. "We live, we work, we go to school, we go to church in your communities. It provides us different perspectives by leveraging your expertise to help strengthen our joint war-fighting team. Thank you for everything you do to help us on this journey."
In turn, the civic leaders learned about the Air Force's priorities and progress while strengthening bonds and partnerships. While at Joint Base Andrews, Maryland, the group discussed topics ranging from "The Air Force We Need," to new approaches on acquisition and the Air Force's broad responsibilities under the new National Defense Strategy.
The event was also used to induct the newest members into the program. The new members are:
Ryan Binkley – representing Pacific Air Force and Eielson AFB, Alaska.
Timothy Burke – representing the National Guard Bureau and Offutt AFB, Nebraska. He is the president of the Omaha Public Power District.
Kristi Hilbert – representing the Air Force Reserve Command and Pittsburgh Air Reserve Station, Pennsylvania.
Jeff Hoagland – representing Air Force Material Command and Wright-Patterson AFB, Ohio.
Kyle Hybl – representing Air Force Space Command and Peterson AFB, Colorado.
Bernard Johnson – representing Air Force Special Operations Command and Hurlburt Field.
Scott Landguth – representing Air Force Global Strike Command and Ellsworth AFB, South Dakota. Rod Nenner – representing Air Force District of Washington and JBA.
Tom Neubauer – representing Air Combat Command and Tyndall AFB, Florida.
Sandy Person – representing Air Mobility Command and Travis AFB, California.
Ronda Sauget – representing AFRC, Air Mobility Command and Scott AFB, Illinois.
Klaus Weiswurm – representing Air Education and Training Command and Joint Base San Antonio-Randolph, Texas.