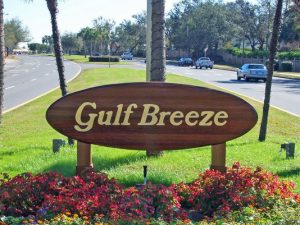 Gulf Breeze's City Council during Monday night's council meeting discussed the proposed budgets for some major projects, favored a suggestion for a new fire station in Midway and approved a measure which will restrict personal open burnings, among other issues.
During the meeting the council convened as the Community Redevelopment Agency Board of Directors to discuss budget items that are needed for new projects and programs that are being proposed.
Gulf Breeze Community Services Director Craig Carmichael led this portion of the discussion and explained multiple projects to the council, what their current statuses were and the proposed budgets on those projects.
The discussion included projects such as the construction of a new hotel taking place in Gulf Breeze, improvements to Andrew Jackson trail, moving utilities underground, tree trimming, replacing signs and a variety of other improvements to the area.
According to the proposed budget, the city is currently looking at spending around $850,000 on these projects.
Councilman Tom Naile asked if improvements like moving utility infrastructure underground would carry forward into next year. Carmichael said he anticipated they would be under contract by September but that they would cause some unavoidable traffic delays in the process.
Midway Fire Rescue Chief Jonathan Kanzigg suggested building a new fire station closer to the new school which will be constructed on Elkhart Street towards the west side of Holley by the Sea.
Kanzigg is predicting call volume to spike to nearly three thousand calls a year next year. He said his department is already receiving calls from Holley-Navarre to Gulf Breeze and does not have the resources available to continue this.
Kanzigg would like some surplus land to build a new, small station that can service the new school more quickly than any current station and help with the anticipated future uptick in call volume.
The council was in favor of Kanzigg's idea and asked the city attorney to draft an agreement for the surplus land—which will specify things such as a specific location and what will happen to the land if they don't use it—before modifying and likely voting in favor of the motion in the future.
Gulf Breeze Fire Chief Shane Carmichael presented a motion for fire prevention and the protection of prohibiting open burning as an item from the community services department.
Multiple people from the audience spoke in favor of this bill. One had a video of a fire growing taller than her backyard-fence, and she wanted to send it to the council.
The council voted in favor of this motion, which will restrict fires in ways such as when they can be built, what can go in them, their size, and other similar factors in Gulf Breeze.
The council convened shortly after hearing a comment of gratitude from someone in the audience, and is not scheduled to meet again until the July 1.