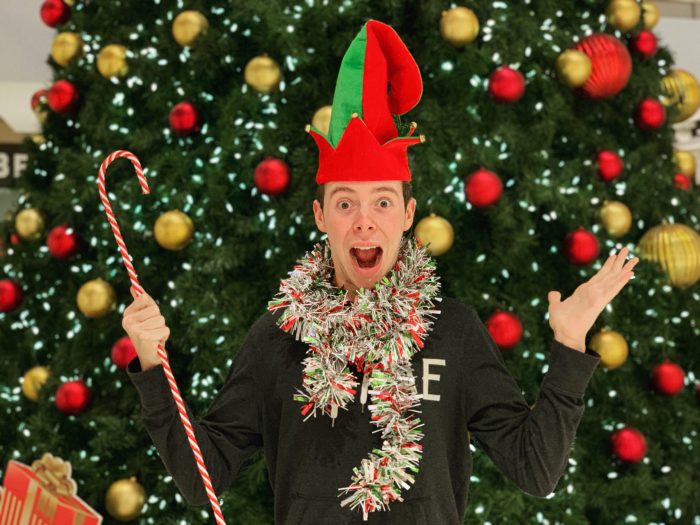 The award winning Gulf Breeze High Drama troupe is presenting "Elf- The Musical" for some toe- tapping family fun this Christmas.
The show will be performed under the direction of drama teacher Margie Timmons at 7:30 p.m., Friday, December 13. There will be two additional performances at 2:30 p.m. and 7:30 p.m., Saturday, December 14. All performances will take place at Ashmore Auditorium at Pensacola State College, located at 1000 College Boulevard in Pensacola.
Josh Hecht, playing Buddy the Elf, is a senior and has been in other Gulf Breeze High shows since his family moved to the area when he was a freshman. This, however, is the largest role he has ever had on stage.
"In the other shows like 'Curtains' and 'Matilda' I was in supporting roles, which I really enjoyed. But this is the most fun show I've done so far," Hecht said. "I found out about the auditions the day before they were happening, so I really didn't know if I would get cast. This cast is amazing with their work ethic and passion and the energy they bring every day to rehearsals. You can learn something from every person in the cast just by working in rehearsals – at least I have."
Costumer Shelley Burkhardt says Hecht was a "natural" for this role. "Josh is always smiling, always happy, and really is like Buddy. But he has been playing bad guys until this role, so it is nice to see him play something happy," she explains.
Sophomore Ellie Burkhardt is playing Michelle, Buddy's little sister, and says she loves this show and the entire cast.
"I love doing theatre," said Burkhardt, who has also performed with Pensacola Little Theatre.
Other familiar Gulf Breeze High actors and actresses join other newcomers to the stage in this cast, including: Emma Chestney as Jovie, Zach Smoker as Mr. Hobbs, Sophia Holston as Mrs. Hobbs, Judah Bowers as Santa, Kaela Deselms as Mrs. Claus, Jack Anderson as Charlie, Lydia Ent as Tiara, Victoria Williams as Ms. Chadwick and Isabella Ellis as Mrs. Greenway, among others. The cast numbers 39 in all.
Tickets can be purchased online at www.pensacolastate.edu/lyceum or by calling PSC Lyceum Box Office at (850) 484-1847.