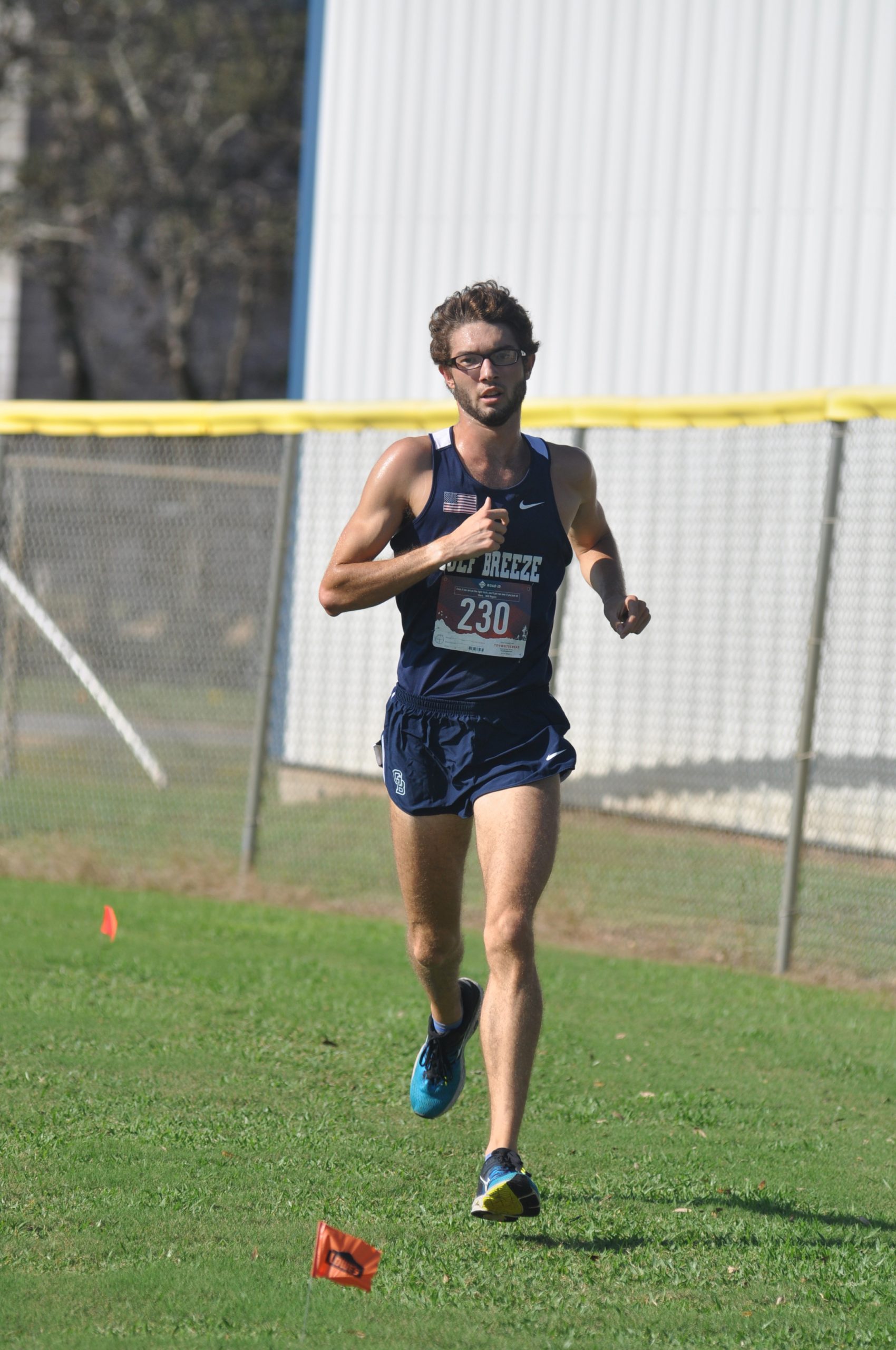 Finn Youberg dusted the field Sept. 24 enroute to a 17:26 finish over the five-kilometer circuit. (Photo by Stuart Camp)
The Dolphins won the boys' and girls' cross-country races Sept. 24 in a tri-meet with Navarre and Milton.
Senior Finn Youberg led Gulf Breeze with a 17 minute 26 second time across the five-kilometer course, a four-lap circuit in the Gulf Breeze sports complex. Dolphin sophomore Kristina Hankinson won the girls' race in 22:28.
Team scores depend on individual places, and the team with the lowest combined finish of its top five runners takes the title. Gulf Breeze's boys placed all five of their scorers in the top 10 places, and their team total was 20 points. Navarre took second with 52 points, led by junior Luke Morris' third place in 19:25. Milton was third with a team total of 66.
"It's a good first race because of the (weather) conditions and course," Youberg said. "I was pushing it a little, but I wasn't racing."
He finished more than a minute 20 seconds ahead of the field in a self-described 60-percent effort.
The Dolphins' girls team ran as a pack, sweeping all but one of the top 12 places. Navarre's Lily Campbell disrupted a perfect score by finishing second in 22:42.
Hankinson had already put in a hard three-mile workout before school. Obviously, the early run nor the hot, humid weather drained her batteries. She steadily pulled away from the pack, extending her lead from three yards after the first lap up to 100 by the final stretch.
Navarre's boys' team features returning veterans, like Morris, Branden Heinke, Logan Escobedo, Gavin Anthony, and Jackson Garrison. Newcomers on the varsity roster — Cesar Murphy Jr., Ivan Bateman, and Abram Wilson – show promise.
"Over quarantine, I was running three and four miles a day and built up to a mile-long kick," Morris said, whose time was a minute improvement over his best time last year. The junior appeared on varsity in 2019, but didn't place well enough to score.
Summer workouts with teammates – led by Heinke, a senior – seem to be paying dividends.
"We have the most depth we've had in years," Heinke said. "We've worked off each other."
Coach Katie Fein was astonished by Morris' improvement, especially leapfrogging over seasoned athletes on the team.
Thursday was no different. Morris sat in sixth place entering the second half of the race. He steadily moved up, eventually overtaking third place in the last 500 yards. And the remaining Raiders flew to the finish.
New boys' cross-country coach James Fox took stock of his runners' efforts, citing the team's finishing kick and packing together to score better.
"I had six boys within 30 seconds of each other. It's hard to complain about that," Fox said.
He added his thoughts on making do with available races and courses in these trying times.
"I'm happy for them to have a normal time running," the coach said. "It feels good to be back to the way it should be."
Over the summer, a northerly breeze brought in Campbell – a speedy transplant from North Dakota. Not used to the heat and humidity yet, she vomited after crossing the finish.
Campbell categorized her effort as somewhere around 80 percent of max, but she called the race a relief.
"The sun was beaming down and all the heat was a different environment (from North Dakota," she said. "I pushed through it and got the race done. It felt great to be able to race again … being around people and feeling the competition."
Fein continues to firm up a racing schedule for the season, but it's been tough due to cancellations and postponements.
"I'm still trying to wrap my head around the fact that this is our first meet because of COVID and the hurricane," she said.
Despite the delayed beginning, Fein sees so much potential on the squad – proven by the tri-meet's results.
"We have a lot of new faces. If we had a regular season, I think we would've been really good this year. We have a lot to improve on, but I'm just frustrated because we don't have enough time to get that improvement."
If nothing changes, the Raiders will toe the line again Oct. 3 at the Pace Patriot Invitational.