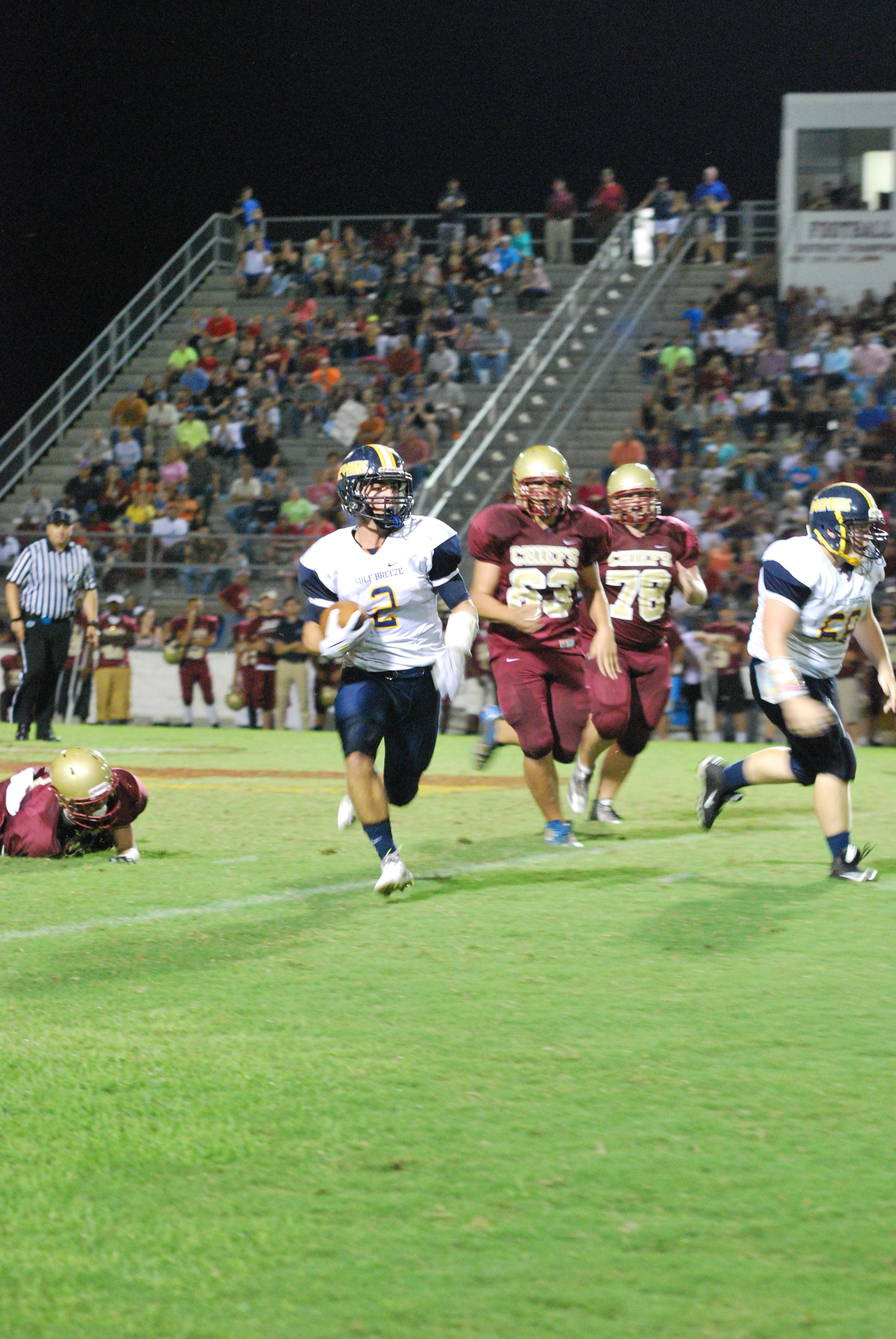 Gulf Breeze fell behind early but the Dolphins' inexorable offense gradually overwhelmed host Northview in a 56-24 high school football win Friday in Bratt.
"Our kids just stayed the course," Gulf Breeze coach Chris Nemith said. "There was a point in the game when the momentum started to change, going to Northview a little bit, but our kids didn't panic."
The win was the first for Gulf Breeze (1-2), a Class 6A program. Northview (0-2) is a Class 1A power located in northern Escambia County that regularly plays larger schools to prepare for its district schedule.
Quarterback Tyler Phelps scored the first of his three rushing touchdowns from four yards out and T.J. Brubaker kicked the extra point to give Gulf Breeze a 7-0 lead with 7:27 left in the first quarter. On the ensuing possession, the Chiefs drove to the Dolphins 38-yard line before turning the ball over on downs. Northview defensive back Toney Harrison stepped in front of Phelps' first-down pass in the left flat, though, and sprinted into the end zone. The extra-point kick failed, but after the Chiefs' defense held Gulf Breeze on three downs, Luke Ward surprised
the Dolphins' special teams by fielding a high-bouncing ball between defenders and streaking 74 yards for a touchdown. A bad snap thwarted the extra-point try, but with 14 seconds left in the first quarter, the Chiefs led 12-7.
The Dolphins responded with a four-play, 65-yard drive keyed by a 34-yard Tristan Covell run and capped by Phelps' 1-yard touchdown lunge. Covell ran for the two-point conversion, giving Gulf Breeze a 15-12 lead.
Ward misplayed the ensuing kickoff and Luke Selogy forced and recovered a fumble for the Dolphins at the Northview 8-yard line. Two plays later, Phelps scored his third touchdown from four yards out. Covell passed to Jake Nemith for the additional two points and a 23-12 Gulf Breeze lead.
Northview wasn't done, capping a four-play, 70-yard drive with an 18-yard pass from Gavin Grant to Neikel Robinson. The same duo teamed up for a 59-yard connection to set up the score. The two-point pass failed, but Northview had cut the score to 23-18 with 9:02 left before halftime.
Gulf Breeze ended the half with a 14-play, 67-yard drive that ended with Covell's 1-yard scoring run. Matthew DeMahy tossed a halfback pass to Kendall Gallagher to give the Dolphins a 31-18 lead with 10 seconds left before intermission.
Phelps threw a 14-yard score to Walter Yates III and Covell added an 8-yard touchdown run after DeMahy's interception of Grant at the Dolphin's 13 ended a Chiefs threat.
Brubaker booted a 42-yard field goal early in the fourth quarter. Northview set up its final score when Hunter Edwards forced a fumbled punt snap and Justin Helton fell on the ball at the Gulf Breeze 5. Grant passed three yards to Jacob Dunsford two plays later to pull the Chiefs to within 49-24.
Clark Couget caught a 10-yard scoring toss from Phelps and Brubaker added the final point with 3:39 left.
Phelps, a junior, rushed for 93 yards on 22 attempts and completed 16 of 27 passes for 130 yards. He allowed just one interception after being picked six times in his first two games. Covell rushed for 138 yards on 18 carries. The junior has rushed for 442 yards and five scores in three games.
Cole Sheppard led Gulf Breeze receivers with six catches for 49 yards.
Gulf Breeze will host Pine Forest (2-1) at 7:30 p.m. tonight at Dolphin Stadium. The Eagles' only loss came against Choctawhatchee on a game-ending field goal.
Gulf Breeze 56, Northview 24
Gulf Breeze 7 24 15 10 – 56
Northview 12 6 0 6 – 24
First Quarter
GB – Tyler Phelps 4 run, T.J. Brubaker kick. 7:27
N – Toney Harrison 43 interception return. Kick failed. 1:58
N – Luke Ward 74 punt return. Kick failed. 0:14
Second Quarter
GB – Phelps 7 run. Tristan Covell run. 11:23
GB – Phelps 4 run. Jake Nemith pass from Covell. 10:44
N – Neikel Robinson 18 pass from Gavin Grant. Pass failed. 9:02
GB – Covell 1 run. Kendall Gallagher pass from Matthew DeMahy. 0:10.5
Third Quarter
GB – Walter Yates III 14 pass from Phelps. Covell run. 7:52
GB – Covell 8 run. Brubaker kick. 2:43.
Fourth Quarter
GB – Brubaker 42 field goal. 10:27
N – Jacob Dunsford 3 pass from Grant. Pass failed. 6:01
GB – Clark Couget 10 pass from Phelps. Brubaker kick. 3:39
RUSHING – GB: Tristan Covell 18-138, Tyler Phelps 22-93, Logan Green 4-31, Tyler Dittmer 2-15, Nate Herrick 2-3, Ricky Alexander 2-1, C.J. Williams 3-(-5). TEAM: 53-276.
PASSING – GB: Phelps 16-27-1 130 2 TDs, Matthew DeMahy 1-1-0 3 0 TDS, Covell 1-2-0 3 0 TDS. TEAM: 18-30-1 136 2 TDS.
RECEIVING – GB: Cole Sheppard 6-49, Walter Yates III 3-25, Kendall Gallagher 3-13, Clark Couget 2-20, Green 2-20, Covell 1-6, Spencer Segal 1-3. TEAM: 18-136.