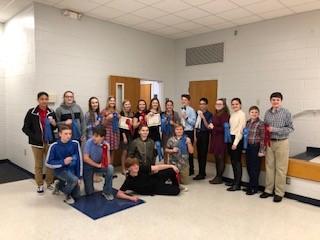 Gulf Breeze Middle School on February 1 hosted the Santa Rosa County History Fair. More than 30 students from area schools participated, and students from the Gulf Breeze area took away multiple awards.
Participants included students from Gulf Breeze Middle, Avalon Middle, King Middle, Gulf Breeze High and the Homeschool Community who presented their National History Day projects to be judged.
This year's theme was Triumph and Tragedy in History.
Students from Gulf Breeze took home seven first place ribbons, four second place ribbons and two second place ribbons. The first and second place winners will continue on to the state competition on May 5-7 in Tallahassee.
Gulf Breeze Middle School winners
Individual Exhibits
First Place – We Hold the Rock – Meghan Thacker
Second Place – The Triangle Shirtwaist Factory: Tragic Fire Creates Triumph for Factory Workers – Addy Ware
Third Place – The Joke was on Them: Elizabeth Blackwell, Pioneer in Women's Health Care – Elyse Fulford
Group Exhibits
First Place – The Radium Girls: Tragic Deaths but a Legacy of Triumph – Journey Davis and Lauren Hitchcock
Second Place – The Rise and Fall of Agent Orange – Rico Stamey and Graham Clark
Individual Websites
First Place – World War II's Forgotten Fighters: Women Airforce Service Pilots (WASP) – Whitney Bouk
Second Place – Apollo 13: A Triumph Against Time – Amelia Hoitt
Group Websites
Third Place – Nine Students Face the Tragedy of Integration – Matthew Barrs and Brandon Collins
Individual Documentary
First Place – The Tragedy of Polio and the Triumph of the Vaccine's Support from the March of Dimes – Amelia Atchison
Special Prize – Daughters of the American Revolution – Whitney Bouk
Gulf Breeze High School winners

Historical Paper (Senior)
First Place – Victory or Death: The Triumph of Washington's Crossing – Shayla White
Homeschool winners
Historical Paper (Senior)
Second Place – Sacrifice, Sabotage, & Skis: Norway Strikes Back Against the Third Reich – Eli Smith
Historical Paper (Junior)
First Place – Ethyl: The Phantom Menace – Derek Smith