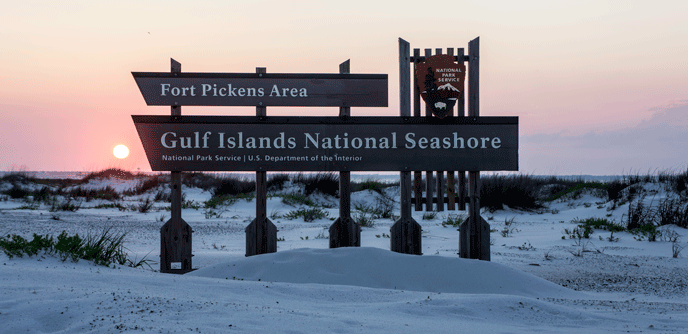 The National Park Service welcomed more than 5.6 million visitors to America's largest national seashore in 2019. The milestone represents the highest annual visitation in over 30 years. The park is now number 10 on the "Top Ten Most Visited National Park Service Sites," coming in just below Grand Canyon National Park's 5.97 million visitors in 2019.
The park experienced about a 1.4 million increase over visitation in 2018. The increased visitation can be attributed to several factors including the overall increase in visitation to national parks in 2019, good weather throughout the recreational season, and better data tracking throughout the park including marine areas which represent 82% of the park's area. In 2019, there were no weather-related park closures.
"It is evident that visitors love what Gulf Islands National Seashore has to offer," says Superintendent Dan Brown. "The park looks forward to continued protection of the park's natural and historical wonders, while expanding facilities to create a place for visitors to enjoy for generations to come." Visitation statistics provide the national seashore a reliable way to estimate trends in visitor use, which helps park management plan future operational decisions.
Visit https://www.nps.gov/subjects/socialscience/annual-visitation-highlights.htmto learn more about National Park Service visitation.