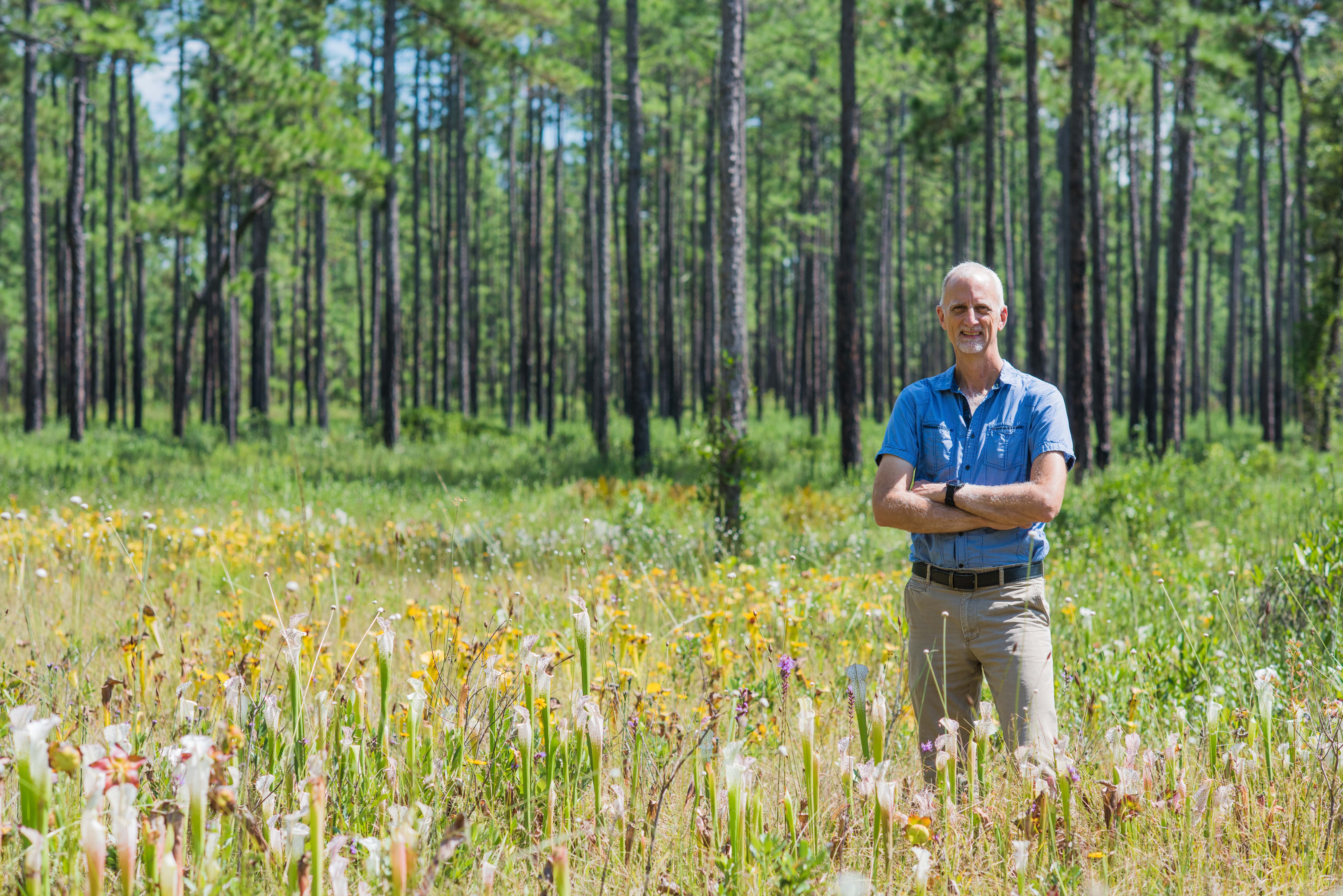 Gulf Coastal Plain Ecosystem Partnership Director Vernon Compton has worked many years toward helping restore longleaf pine ecosystems
Gulf Power Company and its parent company, Southern Company, have teamed up with the National Fish and Wildlife Foundation and other partners to support $5.5 million in Longleaf Stewardship Fund grants for 24 community-led projects aimed to help restore and enhance longleaf ecosystems across the Southeast.
Three of the grant-funded projects are located within or adjacent to Gulf Power service territory, including a $300,000 grant of which a large portion will be used in Santa Rosa County.
The Gulf Coastal Plain Ecosystem Partnership will establish 333 acres of longleaf pine and improve an additional 55,350 acres of existing longleaf habitat through prescribed fire and private landowner outreach and technical assistance.
"We're super excited to get this grant," Gulf Coastal Plain Ecosystem Partnership Director Vernon Compton said. "This is very important to the restoration effort and a critical component of the many success we're seeing on the ground across the longleaf pine range and habitat improvement."
The project will also translocate 140 gopher tortoises, a candidate species for possible listing under the Endangered Species Act, to Eglin Air Force Base Reservation and Conecuh National Forest, which adjoin Blackwater River State Forest.
"Thanks to habitat restoration on these sites, they are ready for the keystone species to be reintroduced," he said. "They will be saved from places in Central Florida that are being developed, where they would have been lost or entombed. We'll dig them out and save them and truck them up here."
Additionally, the grant will provide technical assistance and educational opportunities for private landowners, including a longleaf academy to teach them how to restore their own lands.
"Longleaf pines were once the dominant ecosystem in the Southeast United States. Clearcutting to make way for farms, plantations and urban development, extensive logging, along with the suppression of fire critical to the germination of the pine's seedlings led to a dramatic decline in the ecosystem," Compton said.
Two other organizations awarded funding include:
– The Apalachicola Regional Stewardship Alliance, which will establish 862 acres of longleaf pine and improve more than 25,000 acres of existing longleaf habitat through the use of prescribed fire and planting of native groundcover on public and private lands, benefiting Tyndall Air Force Base, improving habitat both on and off the base for numerous wildlife species including the eastern indigo snake, a federally threatened species, as well as the gopher tortoise and Bachman's sparrow.
– The Longleaf Alliance, Inc. and partners will translocate 60 red-cockaded woodpeckers to properties designated as recovery sites by the U.S. Fish and Wildlife Service with a $169,000 grant. The project involves managing and improving 6,000 acres of longleaf pine forest and providing high-quality habitat for the woodpecker's nesting and foraging. Ralph Costa, a wildlife biologist leading the project, said the birds will be taken from the Apalachicola National Forest, which has a thriving population in part due to Gulf Power-supported restoration efforts, and sent to Mississippi, Alabama and South Florida.
"Gulf Power understands that playing a role in restoring the ecosystem is intrinsically linked to the quality of life of our customers and economic viability of the region we serve," said Jeff Cole, Gulf Power's Environmental Stewardship coordinator. "By investing in a landscape approach to restoration through this grant program, the projects being funded make a larger impact on critical habitat countless plants and wildlife species depend upon. We're happy to continue a long history of supporting these grants and providing volunteers to help with the work on the ground."
The grants are part of NFWF's Longleaf Stewardship Fund, a public/private partnership that includes Southern Company, the U.S. Department of Agriculture's U.S. Forest Service and Natural Resources Conservation Service, the U.S. Department of Defense, the U.S. Fish and Wildlife Service, International Paper's Forestland Stewards Initiative and Altria.
The Longleaf Stewardship Fund builds on the success of the Longleaf Legacy program, a partnership between Southern Company and NFWF, which for eight years invested more than $8.7 million in projects to restore more than 87,000 acres of longleaf pine forest and the native species that rely on the habitat.