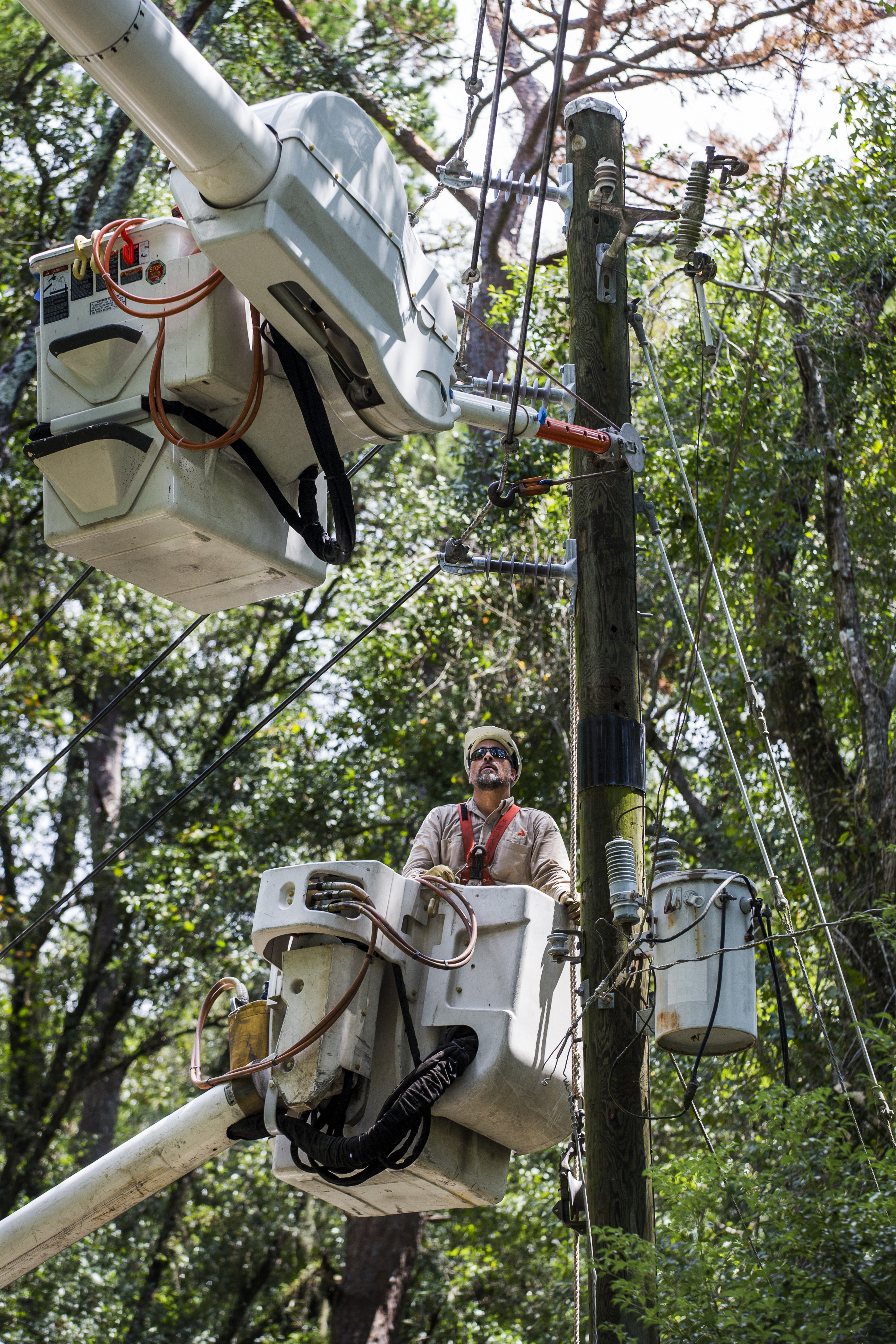 As Hurricane Sally moves closer to the Gulf Coast, Gulf Power stands ready to respond safely and as quickly as possible, should customers be affected.
The latest forecast from the National Hurricane Center indicates that Sally likely could affect a large portion of the Florida Panhandle. The storm's high winds, heavy rain and storm surge are expected to cause power outages and possibly flooding.
"With Hurricane Sally likely to affect Northwest Florida as early as today, we are taking every action possible to ensure we are ready to respond and can do so quickly to restore power to customers affected," said Marlene Santos, president of Gulf Power. "Just as we are prepared, we're asking customers to make safety their top priority and complete their preparations now."
What we're doing:
As Sally's outer bands begin to affect our service area today, we will restore power to customers as long as it's safe to do so. Crews are prepared to work around the clock once winds are below 35 miles per hour, conducting damage assessments as needed and restoring power to customers that are affected. In addition, Gulf Power has secured additional resources that can help restore power, which would bring the total number of lineworkers, vegetation crews and other support resources available to nearly 500.
What our customers should do:
Heed the warnings and evacuation orders by local, state and federal officials.
Download the Gulf Power app to have the information you need at your fingertips.
Record your Gulf Power account number in a location that will be readily available. By knowing your account number, you will be able to quickly access your account online at GulfPower.com. Also, have our phone number (1-800-225-5797) handy in the event you need to call to obtain information through our automated system.
If someone in your home is dependent on electric-powered, life-sustaining medical equipment, review your family emergency plan for back-up power or make arrangements to relocate now.
Don't venture out in the dark, because you might not see a downed power line that could be energized and dangerous; avoid standing water and debris.
If you see a downed power line, call 911 or 1-800-GUPOWER (1-800-487-6937). Stay away from all power lines.
As much as 6 to 12 inches of rain is expected through Wednesday, so Gulf Power encourages customers to be aware of flash flooding. Here are some driving safety tips:
Slow down and drive at the speed for the conditions you face, which is usually slower than the posted speed limit.
Do not drive through standing water in roadways and parking lots.
Beware of streams, ditches, drainage canals and other low-lying areas. Flash floods can happen in these places far from the storms that bring the rain.
If the vehicle stalls, leave it immediately and seek higher ground. Rapidly rising water may engulf the vehicle and sweep it and its occupants away.
Once the floodwaters have receded, watch for debris such as nails, wood and metal objects.
How to stay informed
The easiest way to stay informed and report an outage after a severe weather event is the Gulf Power mobile app. Customers can download the Gulf Power app for on-the-go, instant and secure access to their accounts. Customers can report or get the latest information on an outage. The app is available for download free in the iOS App Store or Google Play Store.