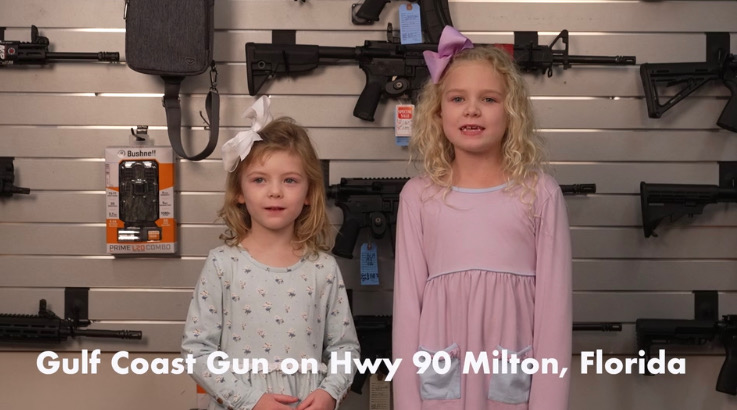 Smith's daughters appear in the advertising, reminding viewers to like the family's business on Facebook.
Gulf Coast Gun & Outdoor Owner Chris Smith is upset that his Pea Ridge business' ads have been pulled by WEAR ABC 3, following complaints from viewers.
"Our local media is bought and paid for by the far left anti gun lobbyists," said Smith after the station on Monday stated it was going to stop running the ads due to "numerous" complaints from viewers.
In a June 6 email, WEAR's John Merrill stated the station's corporate legal had reviewed the ads and determined they were "unfit" to air due to violation of guidelines from The Brady Center for the Prevention of Gun Violence, formerly Handgun Control, Inc., an organization which advocates for gun control in an effort to address gun violence.
Merrill went on to say he had pulled the current spot and would need prior approval for future advertising.
"Public sensitivity regarding this issue is obviously very high right now," Merrill stated.
Smith is now seeking other means to advertise his business.
"This is anti gun propaganda meant to indoctrinate us into believing we should give up our rights, for a false sense of safety," Smith said. "If we don't stand up to this indoctrination we will wake up to society completely controlled by government elites, who think they are better than us and the only rights we should have are the ones they allow us to have."
Mike Bates, the former owner of WEBY Radio and the current host of The Mike Bates Show on WPNN (103.7 FM & 790 AM) said, "WEAR has a First Amendment right to refuse to air commercials for gun stores if they so choose. But it is disgraceful that they are doing so at the request of an organization whose sole purpose is to infringe upon the Second Amendment Rights of law-abiding Americans. Shame on WEAR. Shame. Shame. Shame."
Watch the advertisements here: