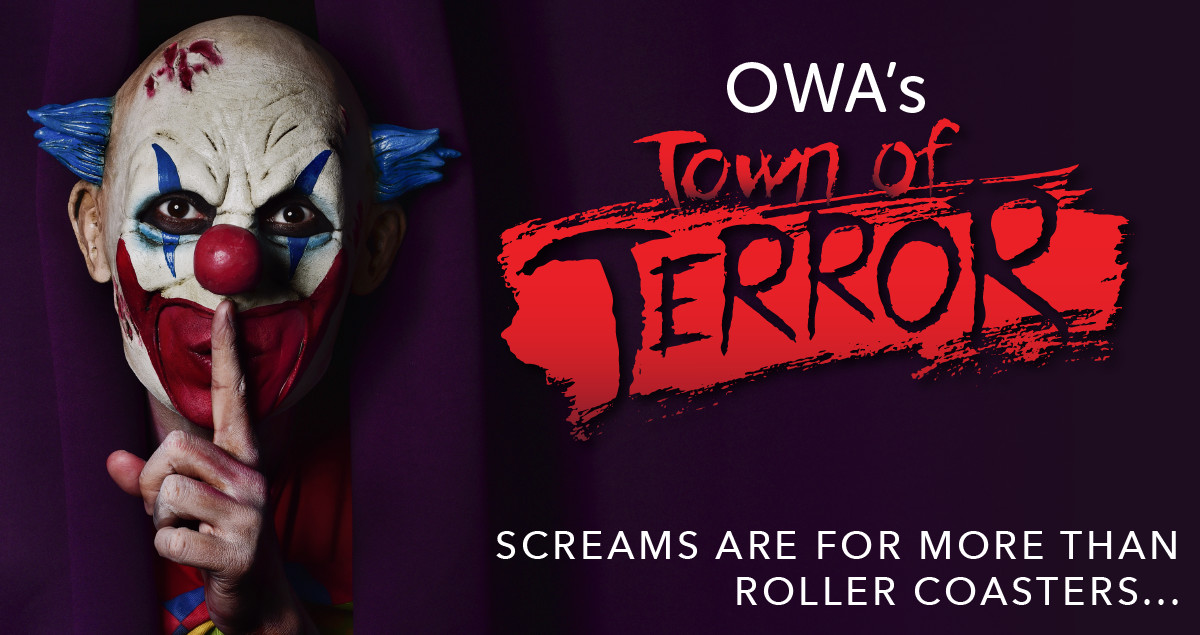 Do you have what it takes to be a terrifying ghoul? OWA is giving you the chance to find out! The Gulf Coast's largest haunted attraction is now hiring scare actors for the Halloween season. Town of Terror: Circus Asylum is the theme this year.
Open casting for auditions take place on Saturday, Sept. 15 from 10 a.m. – 12 noon and Tuesday, Sept. 18 from 3:30-5:30 p.m. at OWA.
"Halloween at OWA is full of fun and frights; therefore, we are looking for outgoing and energetic applicants who love this scary season," said Kristin Hellmich, OWA's Director of Marketing/PR. "We have expanded the Halloween events at OWA across the property and are excited to welcome new team members to help us put on a great show this season."
OWA is set to hire approximately 40 scare actors over the two auditions. Participants will have fun with improvisational activities, acting scenes, and a variety of interactive scenarios.
Actors selected for the haunted house can try out for both key roles and supporting cast. Those participating in Town of Terror: Circus Asylum will have the opportunity to attend terror training and special effects/make-up classes to get in character and prepare for the public opening on Friday, Oct. 5.
Applicants must be at least 16 years of age to participate in the audition process. No resume or prior acting experience is required. For more information on the Halloween hiring process, please email jobs@visitowa.com.
Scare Actor Auditions:
Saturday, Sept. 15, 2018
10am-Noon
10113 Foley Beach Express
Foley, AL 36535
Tuesday, Sept. 18, 2018
3:30-5:30pm
10113 Foley Beach Express
Foley, AL 36535