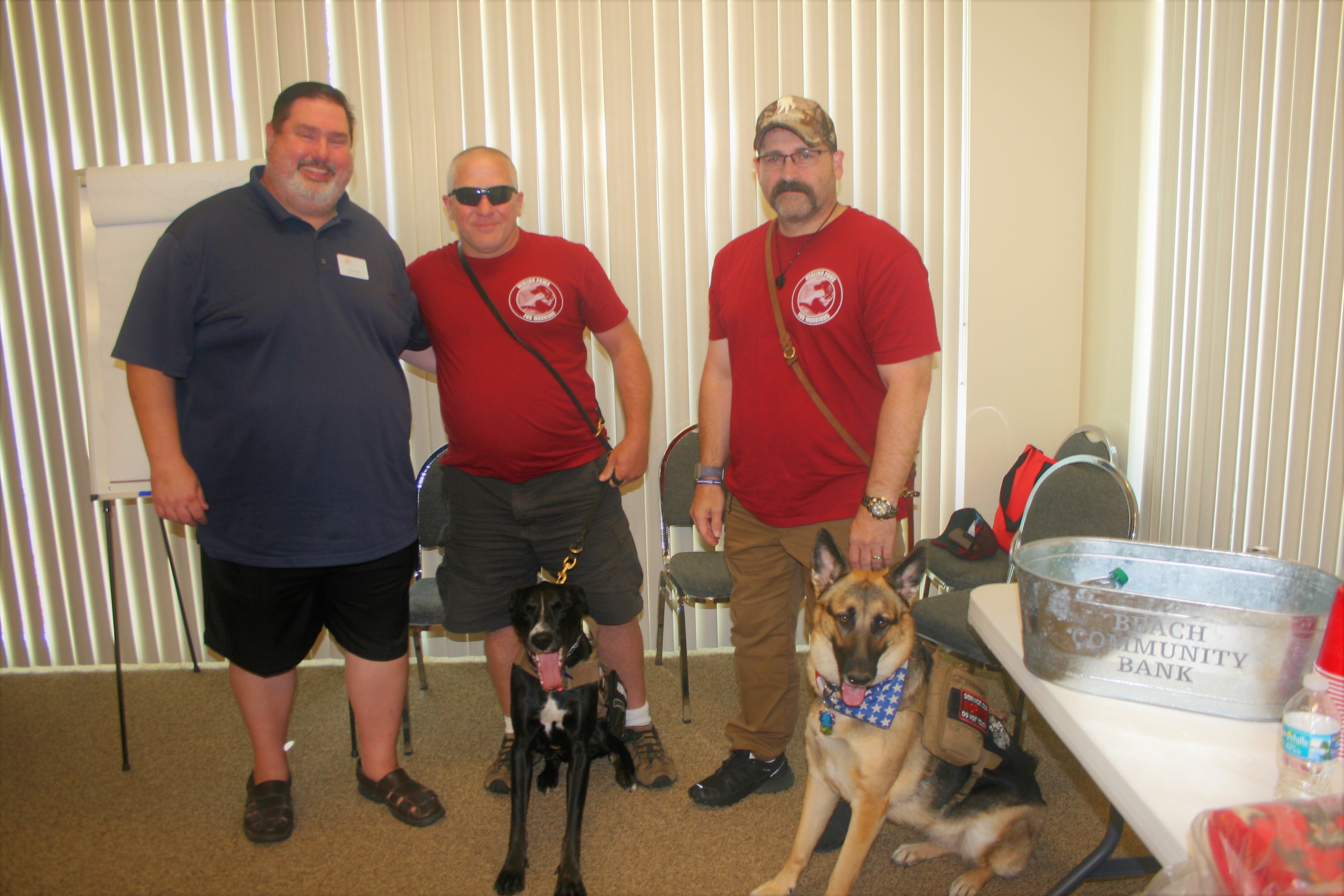 Pictured left to right are Greater Navarre Area Chamber of Commerce CEO TJ Goulet and Healing Paws for Warriors alumni Matthew Rumple with his service dog, Scout, and Louis Orrie with his service dog, Becker.
A local nonprofit organization which pairs post-9/11 combat veterans with rescued and trained ADA-certified service dogs on Tuesday made a presentation to the Greater Navarre Area Chamber of Commerce's Military Affairs Council.
Healing Paws 4 Warriors was started by veterans and aims to alleviate suffering for vets with post-traumatic stress disorder, traumatic brain injury and military sexual trauma.
According to the Department of Veterans Affairs, 22 veterans and active duty members take their own lives every day.
The organization has a goal of creating an awareness of the suicide rate while reducing the stigma often associated with mental health issues surrounding PTS, TBI, and MST in an overall effort to reduce veteran suicides.
Additionally, the group addresses pet overpopulation by rescuing dogs from shelters.
Mike Arena, executive director of the organization, said it takes from $3,000 to $5,000 to rescue and train the service dogs. Once matched the dog and veteran live together from that point forward.
Arena told attendees at one point he was unable to leave the house and would only venture out in the middle of the night to shop for necessary items. Now he's paired with his service dog, Orion, who helps him cope with anxiety and function nearly normally.
The Navarre Area Board of Realtors has so far sponsored three service dogs through the nonprofit.
"The Navarre Area Board of Realtors is immensely proud to be a supporter of Healing Paws 4 Warriors," said NABOR Executive Angela Campbell.
"Executive Director Mike Arena made his first-ever presentation at one of our membership lunches when the group originally formed. His story, and the genuine bond between him and his service dog, Orion, inspired our membership to support three dogs to date," Campbell said, adding, "From that humble beginning, word of their essential mission spread through several of our various connections, and we've watched as the organization has grown to help many other local veterans in need. 22 is a sobering number of military-related suicides a day. Anything we can do as a community to decrease that number is a wonderful thing."
To make a donation or volunteer, call (850) 716-8198 or email info@healingpawsforwarriors.org.