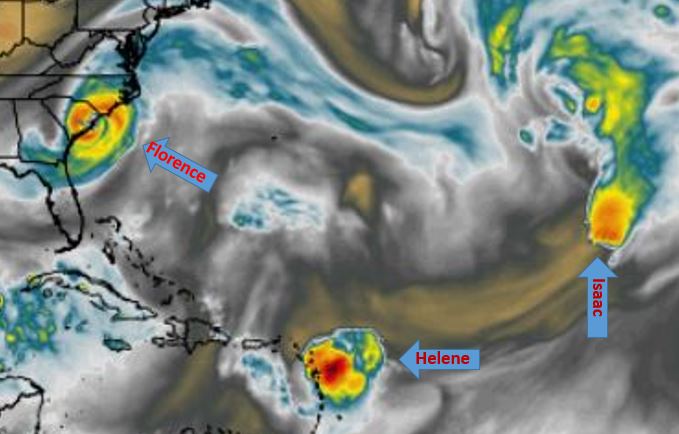 Graphic by weathermodels.com depicting simulated water vapor for September 13
THIS WEATHER UPDATE SPONSORED BY:

Three named storms are expected soon in the Atlantic Ocean. Presently there is only one named storm, Florence, but Helene and Isaac are expected to form over the weekend.
Florence could potentially impact the Carolinas, and Isaac is expected to develop this weekend then next week curve northward over the Atlantic.
However, Helene is forecast to develop and move westward into the Caribbean Sea, according to forecasts.
TROPICAL STORM FLORENCE
Tropical Storm Florence currently has maximum sustained winds of 65 mph, according to the National Hurricane Center's 11 a.m. AST advisory.
The NHC forecast calls for the storm to regain strength and again develop into a hurricane this weekend.
Presently Florence is located about 935 miles ESE of Bermuda.
"Florence is moving toward the west near 8 mph, and this general motion is expected to continue through Sunday. A west-northwestward motion with an increase in forward speed is forecast over the southwestern Atlantic Ocean early next week," stated NHC Forecaster Jorge Aguirre-Echevarria.
Computer models indicate the storm could impact the U.S. East Coast.
"Worth noting that GFS and ECMWF (models) indicate a major hurricane landfall in the Carolinas," stated Weathermodels.com Forecaster Ryan Maue. "As Florence will be very large and likely intense, impacts could be over larger area."
INVEST 92L (potentially Helene)
Invest 92L is a tropical wave presently centered 650 miles west of the Cabo Verde Islands. The low-pressure system is moving westward at about 12-17 mph, per NHC.
"This system is expected to become a tropical depression later today or tonight while it moves slowly westward across the tropical Atlantic Ocean," stated NHC Forecaster John Cangialosi.
There is a 90-percent chance of formation within the next 48 hours, per NHC, and computer models indicate the storm will maintain a westward path.
According to Maue, next week the storm is expected to threaten the Lesser Antilles and enter the Caribbean as a hurricane.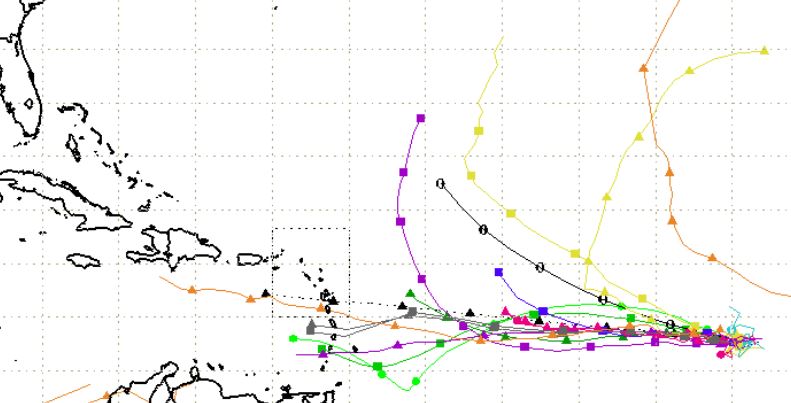 Graphic of computer models for Invest 92L (potentially Helene)
INVEST 93L (potentially Isaac)
Another tropical wave located just off the coast of western Africa, Invest 93L, is also moving westward at 12-17 mph and has a 90-percent chance of formation within the next 48 hours.
However, computer models show it could turn northward.
"New storm off Africa expected to curve north over next week," stated Maue.