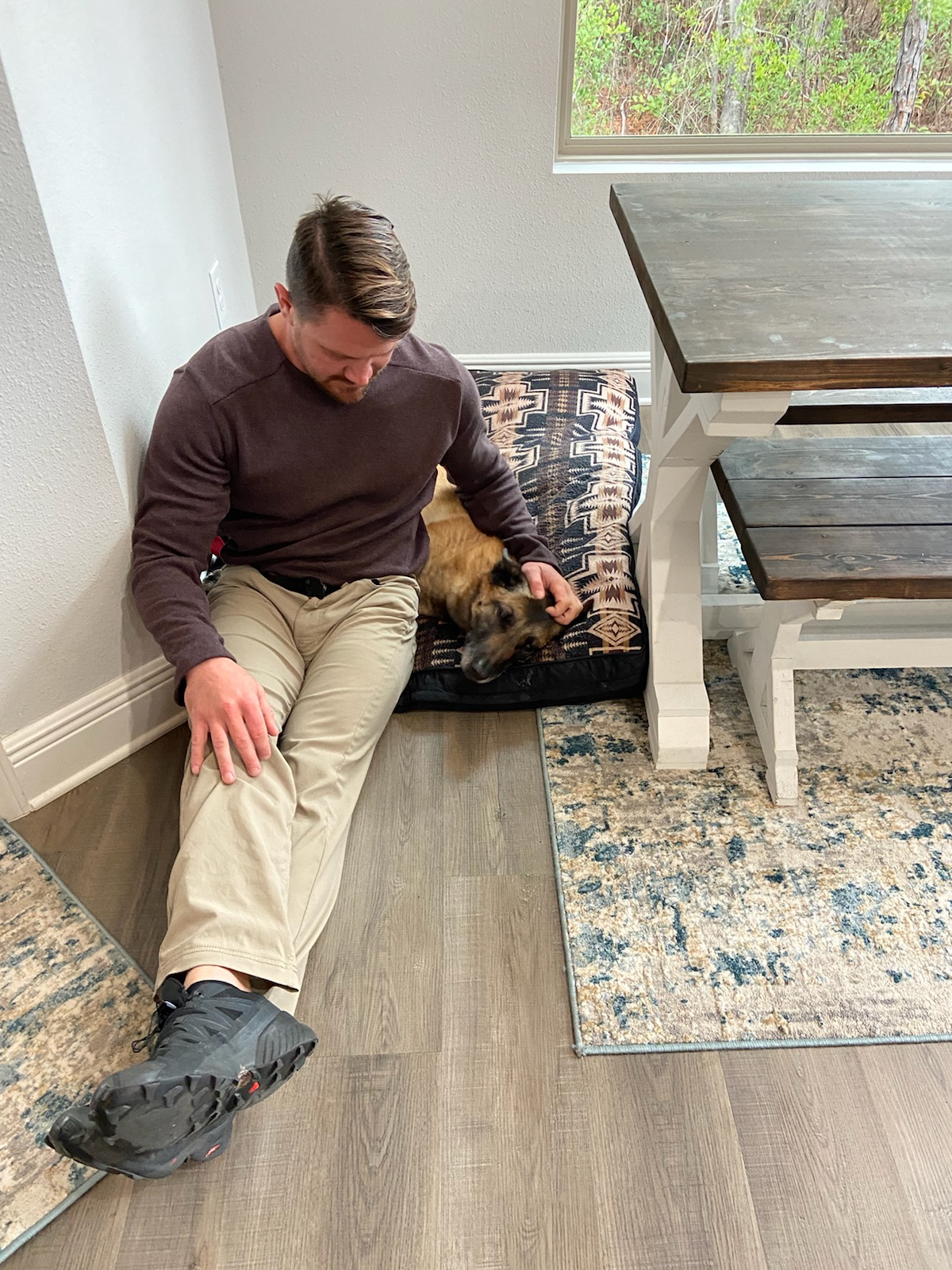 MPC Layka was recently rushed to an emergency vet and is currently being treated for vestibular disease, which can last for weeks and have residual symptoms. She's awaiting a MRI to confirm the preliminary diagnosis. In the meantime, she's unable to get up and relies on help from her dedicated handler. Photos by Romi White
Unlike their human counterparts, K9 military heroes don't automatically receive necessary medical treatment after retirement. In fact, it's a burden their handlers usually undertake after adoption. Sadly, that means some medical choices are based on finances.
But Layka's handler, Staff SGT. Julian McDonald U.S. Army (retired), a Purple Heart recipient who resides in Navarre, is determined to provide her with the best care possible.
Afterall, Layka is credited with saving not only his life but also those of his teammates during a 2012 gunfight with an enemy combatant in Afghanistan. During that fight Layka sustained four point-blank range shots and subsequently lost a front leg to amputation during life-saving surgery.
Because of her heroic actions, McDonald says Layla was the first dog to receive a Medal of Heroism award since World War II, earning the accolade from the 37th Training Group at Lackland Air Force Base. She went on to grace the June 4, 2014 cover of National Geographic for their story on "Hero Dogs A Soldier's Best Friend."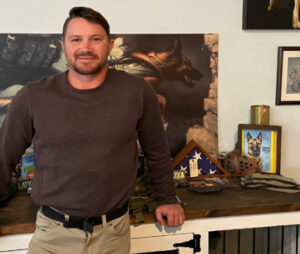 McDonald pictured in his Navarre home with momentos of his service, including the 2014 National Geographic "Hero Dogs A Soldier's Best Friend" cover featuring Layka.
Additionally, she was awarded the 2016 American Humane Hero Dog Award.
Layka and McDonald were also spotlighted in the 2017 HBO documentary "War Dog: A Soldier's Best Friend," which was executive produced by Channing Tatum, who has been working with McDonald on his upcoming feature film "Dog," which will be released in theaters on February 18, 2022.
McDonald, a retired U.S. Army Ranger who trained military dogs for the 75th Ranger Regiment, lost his first K9 partner, Benno, on April 27, 2012. That was Julian's 27th birthday. The next day he was paired with Layka, who was injured in battle less than a month later.
McDonald had to fight to adopt Layka. Even afterward he was heavily criticized by some who said she would be too aggressive to blend in his with son, who was only one year of age at the time. But he says she has never once been aggressive toward his family, which now includes a four-year-old daughter.
Today, because of her medical illness, Layka is lethargic, unable to get up and her eyes are making irregular jerking eye movements called nystagmus – believed to be caused by vestibular disease. McDonald is hopeful that's the cause and that a MRI can be performed Wednesday.
After going public with Layka's struggles, McDonald found an ally in former U.S. Army special ops veteran Rick "War Hogg" Hogg, whose partnered with the nonprofit Scott's Wish to make sure no SOF K9 handler would have to make medical decisions for their partner based on finances.
Toward that end, those who would like to help support's Layka medical care can makde contributions via this link: https://scottswish.org/in-honor-of-duco
McDonald said any donations not used for Layka's current or future medical treatment will be used for other military K9 medical needs.