Photo credit Facebook Jenna Giannini, who spoke with Alexander Julio after the rescue
Navarre Beach resident Alexander Julio, 27, who works at Innerlight Surf Shop in Destin, was in the right place at the right time last evening to save the life of a 10-year-old girl.
"At that point I was the only one still in the water," Julio said, noting that Santa Rosa County lifeguards were off duty by that time of the evening. "As surfers we have a duty to help."
Julio was also able to summon a surfing buddy to paddle out and aid a man who had became caught in a rip tide while attempting to rescue the girl — after first saving her younger brother, according to witnesses.
South Santa Rosa News spoke with Julio this morning, who said he was paddling in from surfing on the easternmost part of Navarre Beach when he noticed the young girl's head bobbing in the water. "She was holding on to something," he said, explaining that as he got closer he realized she was holding onto a man.
So Julio pulled up the girl onto his board and pointed out the man to a friend he recently met who also surfs. Julio doesn't know his fellow surfer's name but said the buddy was able to bring the man to shore.
"She was worried about her little brother, and I think the man got the little brother in," Julio said.
Deputies with the Santa Rosa County Sheriff's Office responded to Navarre Beach around 6 p.m. Saturday in reference to several distressed swimmers, and it was determined upon arrival that two young individuals had proceeded too far into the Gulf waters and were having difficulty swimming, stated Santa Rosa County Sheriff's Office Spokesman Sgt. Rich Aloy.
According to Aloy, the two nearby surfers sprang into action, saving the two individuals.
"A third individual observed the distressed swimmers and (had been) trying to help when a witness stated that person may have been caught in an undertow while trying to save one of the juveniles. Rescue Teams were able to pull that individual out of the water. Deputies immediately began CPR, but the individual had to be taken by helicopter to a local area hospital. That individual was in critical condition upon leaving the scene," Aloy said.
Locals comforted the wife and daughter of the third rescuer as attempts were being made to resuscitate him. His condition is unknown at this time.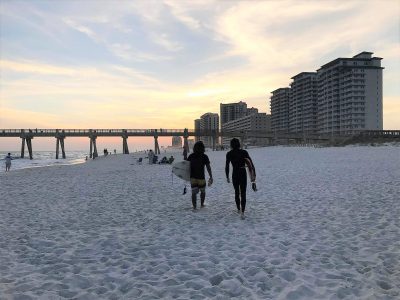 Photo credit Facebook Jenna Giannini, captured this photo of the heroic surfers walking off into the sunset. Alexander Julio, right, doesn't know the name of a new surfing buddy, pictured on the left, who aided in the effort. If you know the surfer on the left, South Santa Rosa News would like to interview him.
Aloy also issued a caution swimmers, noting that the National Weather Service and Santa Rosa Emergency Management report that surf conditions were moderate Saturday and are expected to remain that way throughout the week. "Please exercise caution when swimming in the Gulf and observe all safety flag warnings," urged Aloy.