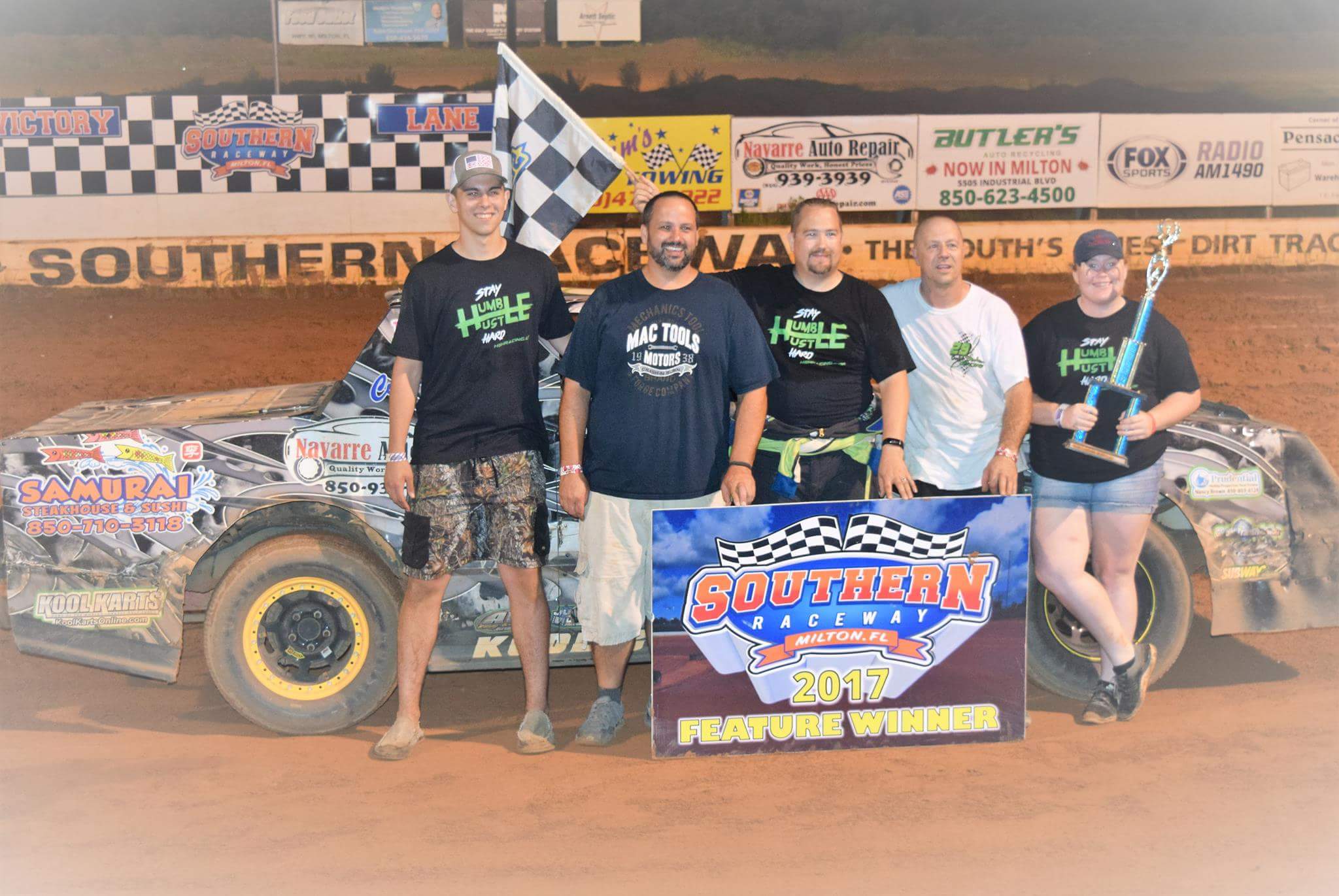 Members of the team posed for a photo following the race
Local Navarre area race team HSH Racing and their driver, Carl Dodson #29 of Milton, saw fireworks on and off the track at Southern Raceway last Saturday night. Dodson, who finished second in points last year at Southern with 5 wins in the Pure Stock Division, was able to get his first Pure Stock win of 2017.
Dodson's 2017 season has been hampered by difficult starting draws, a mishandling race car that has led to poor finishes and spins and an increased quality of competition compared to past years.
Dodson's night started like too many this year at Southern, with a bad draw in heat #2 behind both Jessica Donaldson #64, last year's Pure Stock track champ, and Kevin Mitchell #01, this year's points leader. Dodson took it as a challenge and was able to move from 4th to 2nd with some fancy driving during the 6 lap heat.
Dodson started the 20 lap Pure Stock Feature from the 6th position. During a long 14 lap green flag run to start the race, Dodson was able to move from 6th to 2nd and pressure Donaldson, who had taken the lead in lap #1. Lap 14 saw a caution for a spun car and bunched the field behind Donaldson. Dodson moved his #29 machine hard to the inside on the restart to pressure Donaldson but was unable to get past her.
Another caution on lap 16 bunched the cars again with Donaldson in first, Dodson in second and Mitchell in 4th directly behind Dodson. On this restart Donaldson got a strong restart and Mitchell got inside Dodson in turn #2 and it was a drag race down the back stretch. Dodson and his powerful Pro Comp Machine race engine were able to hold off Mitchell and retain second place.
With just a few laps remaining, Dodson put the pressure on Donaldson, moving under her in turn 3 in lap 18. The pressure obviously got to Donaldson as last year's points leader went too high in turn #3 and lost control of her car and spun into the infield. Only some fancy driving by Dodson and Mitchell prevented a collision.
Now with the lead, Dodson was able to hold off Mitchell through two green, white, checker restarts for his first win of the season.
HSH Racing is co-owned by driver Carl Dodson and Lead Mechanic and owner of Navarre Auto Repair, Will Goulet. Crew Chief David Simpson of Valparaiso rounds out the team. HSH Racing is a Navarre FL based race team sponsored and supported by many Navarre businesses and individuals.
Top sponsors include Navarre Auto Repair, Pro Comp Machine, Navarre Drywall, Samurai Japanese Steakhouse, Emerald Coast Coins, AK Moyer Construction, Subway, Nancy Brown Prudential, Tommy's Snoballs & Culvers to name a few. Learn more at www.hshracing.com.