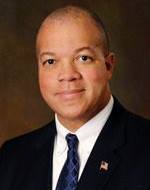 Florida House District 1 Representative Mike Hill ignited a fury of bipartisan criticism after he laughed when an attendee at the May 23 Women for Responsible Legislation forum asked if he could sponsor legislation to execute gays. At the behest of local and state leaders, Hill issued a June 4 apology.
"The recent comments made by (Hill) are absolutely unacceptable and inconsistent with the values of the City of Pensacola in every way," stated Pensacola Mayor Grover C. Robinson IV, noting he wants all members of the community to feel safe and supported. The May 23 meeting took place at Pensacola City Hall.
Florida House District 2 Representative Alex Andrade also spoke out on the issue. "I'm disappointed in Mike. I hope after this he learns that making jokes about killing people that are different than him is not a Northwest Florida value. My prayer is that God gives him the courage in the future, that he lacked last week, to stand up for what is obviously right," stated Andrade.
But Hill refused to offer an apology — until after Florida Governor Ron DeSantis also weighed in Tuesday.
Hill subsequently issued a press release, stating, "I deeply regret how the tone of my response to a constituent was received at this event. I believe that no matter one's race, sexual orientation, religious affiliation economic status or otherwise, that all lives are created equal in the image of God."
However, Navarre resident Brian Heike, president of Gay Grassroots of Northwest Florida and Emerald Coast Equality said it seems to be damage control rather than a sincere apology Gay Grassroots on Monday hosted a protest, calling for Hill to resign.
Heike said more than 75 people showed up for the event. "Representative Mike Hill had multiple chances to apologize. He repeated over and over again that he had nothing to apologize for. Only when it became a political necessity to save his career did he decide to issue some sort of apology," said Heike.
Heike expressed hope the incident will raise awareness. "I want people to realize we're no different from anyone else, and we deserve the same rights," he said.