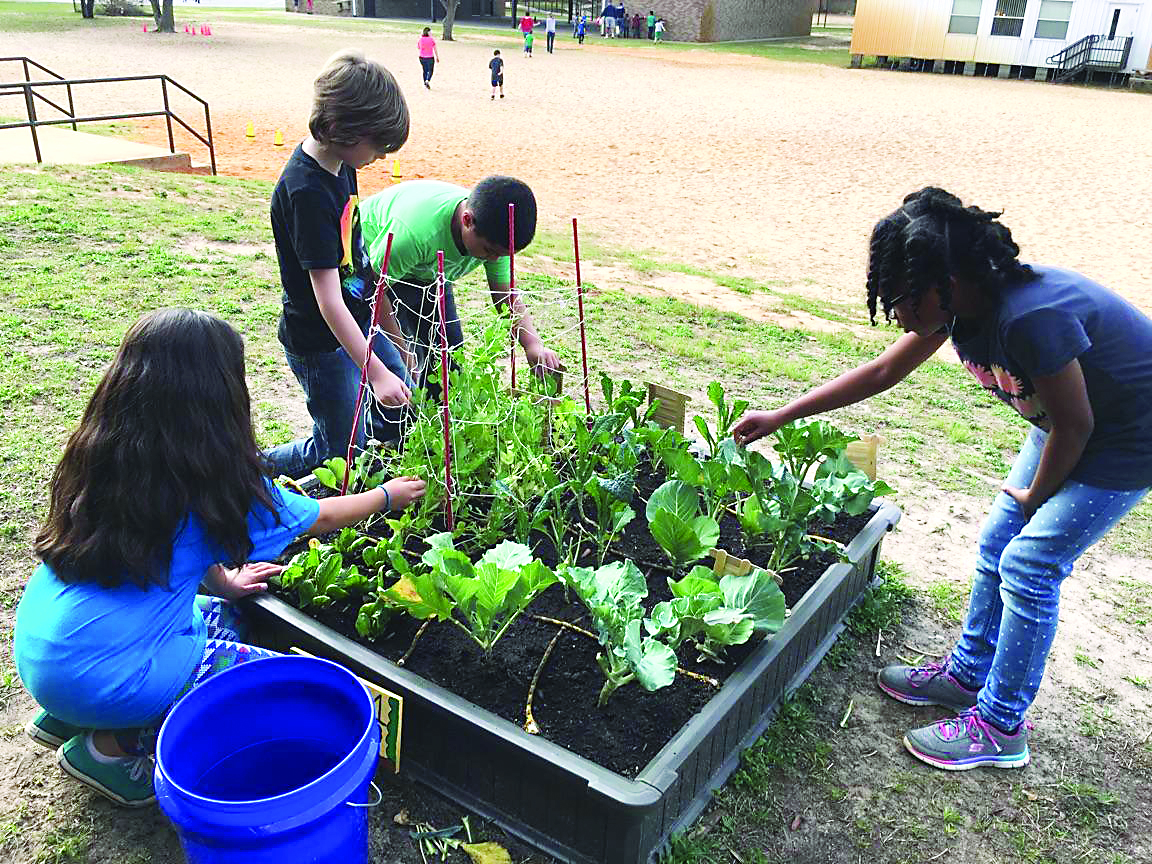 Holley-Navarre Primary School teacher Jennifer Dantin has been busy helping her students think green.
While most children cringe at the thought of getting dirt under their fingernails or eating their vegetables, Dantin has found a fun way to keep her students busy and healthy through gardening.
The second grade teacher helped acquire a grant in order to start a class garden earlier this school year, and through her efforts, she was able to acquire money to help erect a number of gardens at the school.
The teacher wrote a grant for $1,000 through the Santa Rosa Education Foundation and late last year, she learned that her grant, which she labeled "Digging Deeper: Into STEM learning through Outdoor Gardening", was one of the ones that was chosen by the education foundation.
Once she obtained the grant money, she was able to build three 4 ft. x 4 ft. gardens at the school.
Since erecting the gardens, Dantin has encouraged her students to learn about gardening and enticed them to get their hands dirty. So far, her garden, like her students, are sprouting— with newfound knowledge.
"Two of the gardens contain vegetables such as kale, spinach, lettuce, collard greens, cabbage, broccoli, sugar peas and green onions. In the last two weeks, my students have been able to pick enough lettuce, kale and spinach to have salads for snack time two times," Dantin said.
Despite the "rumors" that children usually avoid vegetables, Dantin's students so far have been enjoying their experience.
"They cut collard greens and I cooked them. Believe it or not, most of the students enjoyed eating them," Dantin said.
But not all of the second grade teachers' gardens contain edibles.
"One garden has flowers that were planted about (three) weeks ago," she said.
Along with getting their hands dirty, her students are also writing in a "garden journal" where they keep track of the different foot gardens and note any changes in their growth from week to week.
"(They) document the daily and weekly changes they observe after each visit to the garden. The students graph the daily temperature and rainfall each day in their garden journal," Dantin said.
The teacher has an assortment of learning tools inside her classroom for her students including a worm farm, which the students tend to along with the gardens. And those worms are playing an important part in the gardens for the current and future students of Dantin's.
"We have 500 red wiggler worms that help with composting old food scrapes," Dantin said. "Eventually, we will have worm castings (worm feces) that can be used as fertilizers for the plants."
Along with garnering student participation, Dantin has been able to coerce the students' parents to take part in the gardening venture.
When school is out on the weekends, Dantin allows parents to come to the school to water and tend to the gardens with their children.
"They bring their child up to the school and help them water the garden. This has been a positive experience for the students and parents. It gives the student a chance to show off their class garden and tell their parents some of the things they have learned about gardening," Dantin said. "Parent participation and encouragement has been one of the key elements in why I have had such success with the garden."