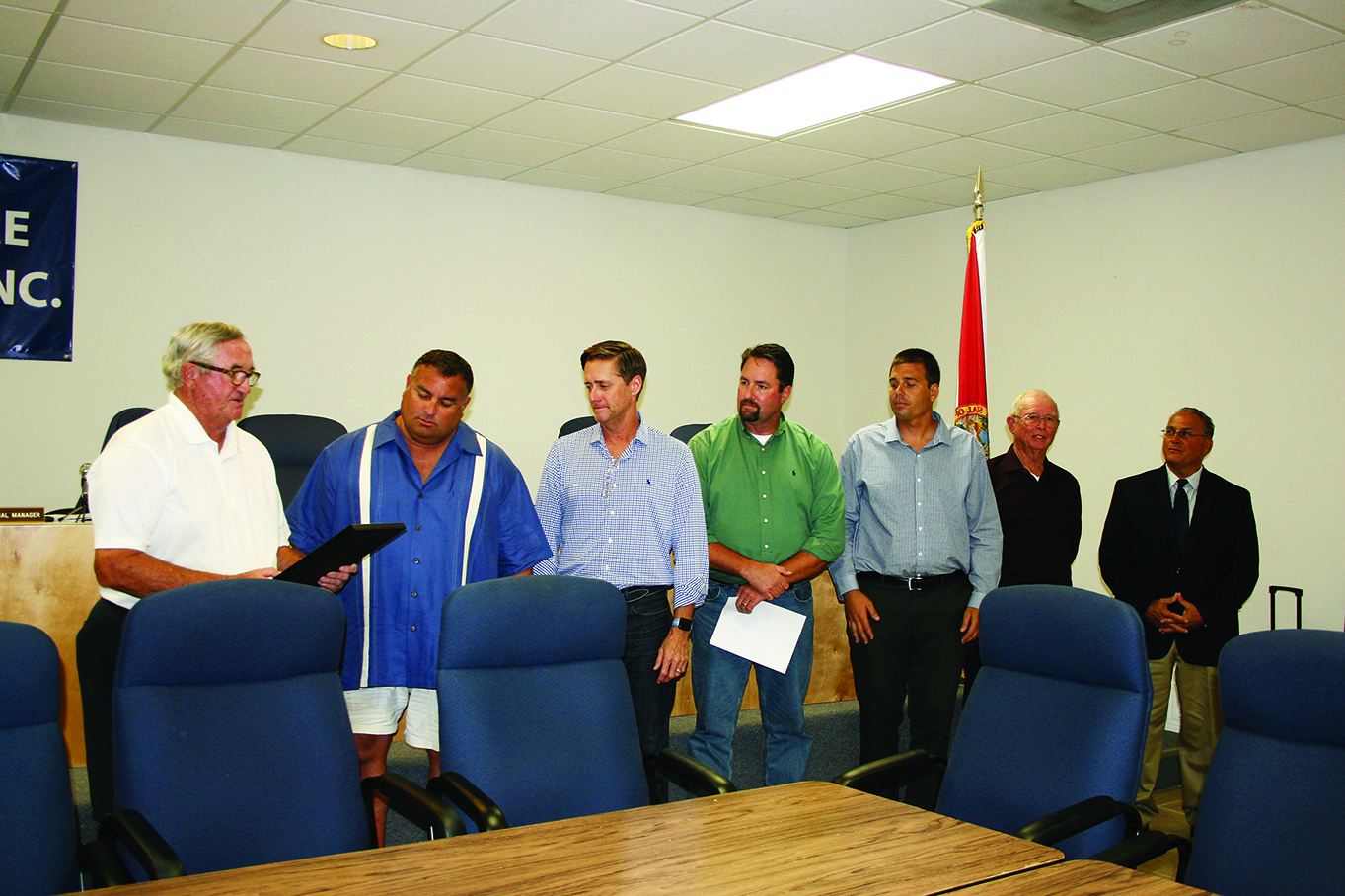 Kelly, second from left, said he would contact an attorney about the matter
The Holley-Navarre Water System board of directors on November 21 voted to rescind the membership of Brian Kelly, an elected member of the board, after questions arose concerning his eligibility to serve as a director.
In a close vote, Troy Bossier, Gaius Bruce, Robert Coley and Bien May voted for Kelly's rescinsion. James Calkins, Kelly and Ricki DeSantis opposed the move.
Former HNWS President Will Goulet questioned the legality of the action. "The board may have performed an illegal action against the bylaws in its attempt to remove Kelly," he said.
According to HNWS bylaws, officers and directors may be removed from office for good cause by any member filing charges with the Secretary-Treasurer of the Corporation and such removal shall be voted on at the next regular or special meeting of the members present. The bylaws require that the director or officer against whom such charges have been presented shall be informed, in writing, of such charges five days prior to the aforementioned meeting and the person(s) presenting such charges shall have the opportunity at the meeting to be heard and present witnesses, and the person against who the charges are made shall have the same opportunities.
HNWS management became aware that existing water service in Kelly's name was switched into another person's name in May 2016, and recently all board members were asked to prove residency via lease or ownership of property.
During the review of board member eligibility, fellow board members questioned whether or not Kelly was actually residing at 7616 Chablis Circle, where service was established in his name.
When asked during a pre-board meeting whether or not he actually lived at the residence, Kelly stated he did. But when asked if he lived there with another family who is believed to lease the residence, Kelly answered, "I don't recall."
Kelly voluntarily showed South Santa Rosa News a copy of his driver's license, which lists 7616 Chablis Circle as his residence.
But current HNWS President Bien May pointed out during the meeting that Kelly's license was recently updated — in September 2017, per Kelly.
When asked to provide a required proof of lease or ownership of the property, Kelly was unable to do so, resulting in the vote on the issue.
HNWS board counsel Michael Tidwell recused himself from the issue because a business associate was charged with assessing the eligibility of the board members.
Board members during the meeting also voted to provide employees with up to a 4-percent merit-based raise.
Additionally, it was announced during the meeting that an election of board members is taking place in January, and the following five candidates have signed up to run for two board seats: Incumbents Troy Bossier and Gaius Bruce are facing Goulet, Daryl Lynchard and Mark Miller. South Santa Rosa News will profile all candidates in next week's edition