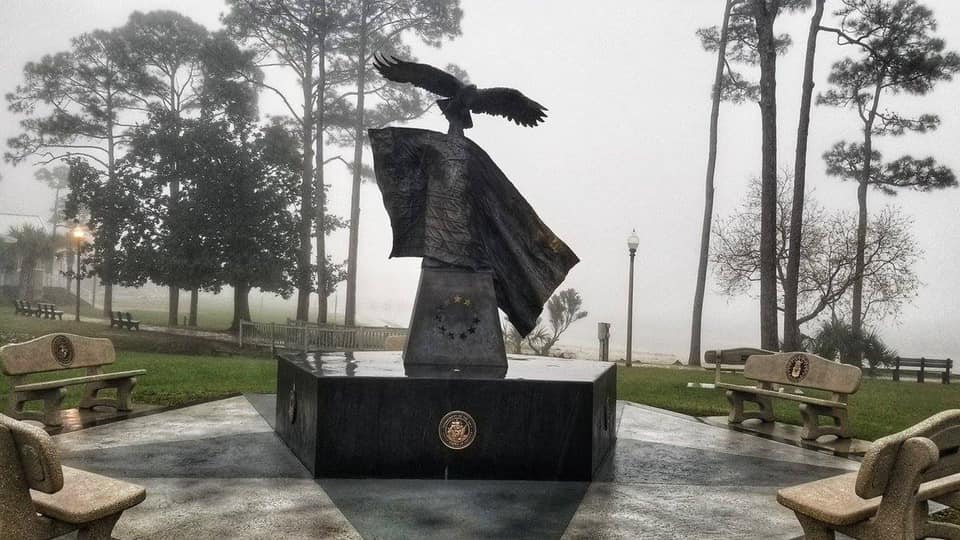 Photo courtesy Tony Alexander, Santa Rosa Leadership Class 29
Six years ago, on March 10, 2015, 11 servicemen perished in a Sikorsky UH-60 Black Hawk Helicopter training exercise when the helicopter crashed into the Santa Rosa Sound in Navarre.
Poor visibility due to heavy fog is thought to have been the cause of the crash, which took place around two minutes after the helicopter, with callsign Mojo 69, flew over Santa Rosa Sound waters.
A second helicopter turned back and didn't proceed with inflatable boat and water insertion training due to the heavy fog, which also hindered rescue and recovery efforts following the crash that received nationwide media attention.
Santa Rosa Leadership Class 29 in November 2016 unveiled a memorial to the seven Marines and four National Guardsmen at Navarre Park. The memorial includes an eagle sculpture designed by local artist Randy New.
Rucking for Raiders, an annual memorial march which started in 2017, takes place each year from Auburn, Alabama to the memorial.
The Marines were part of a special operations group based at Camp Lejeune, North Carolina. The Guardsmen were members of the Louisiana Guard who had deployed twice to Afghanistan and Iraq and assisted with Hurricanes Katrina and Rita.
In memory of the "Mojo 69" crew:
Staff Sgt. Marcus S. Bawol, 27
Staff Sgt. Lance Bergeron
Staff Sgt. Trevor P. Blaylock, 29
Staff Sgt. Thomas Florich
Staff Sgt. Liam A. Flynn, 33
Chief Warrant Officer 4 George Wayne Griffith Jr.
Staff Sgt. Kerry Michael Kemp, 27
Master Sgt. Thomas A. Saunders, 33
Staff Sgt. Andrew C. Seif, 26
Stanford Henry Shaw III, 31
Chief Warrant Officer 4 David Strother