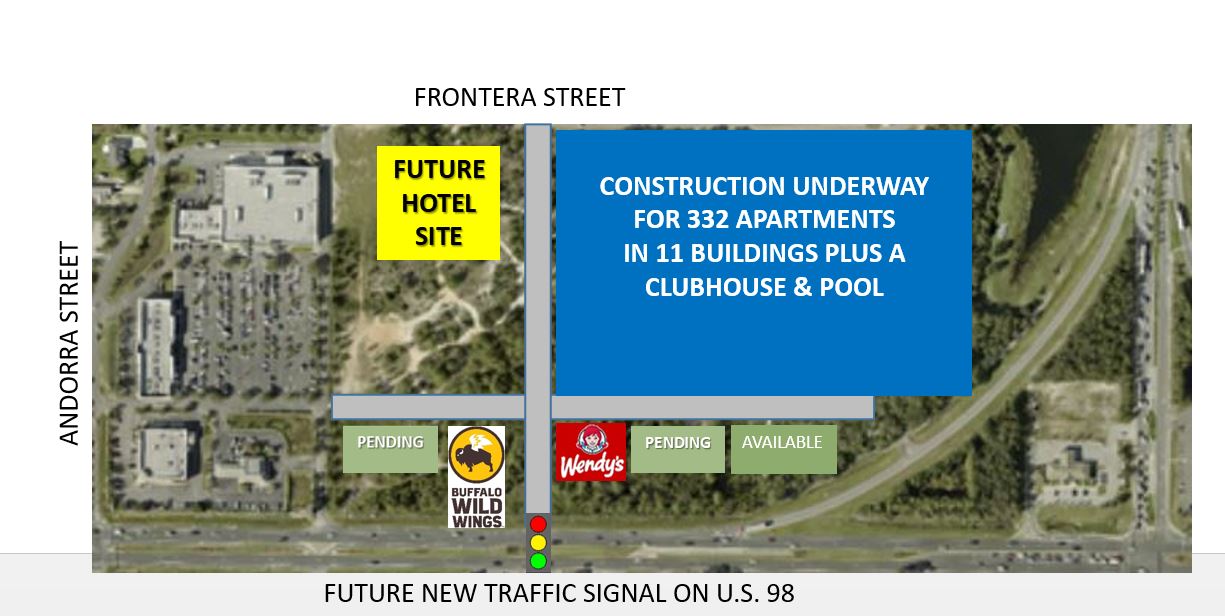 Rough layout of parcel (not to scale). Graphic by Romi White.
A 7-acre parcel adjacent to Public in Navarre has been sold to a company which is expected to develop a first-class hotel. The site was initially planned to house retail stores as part of previous plans announced for the 34-acre property.
According to county records, the parcel was sold for $1.35 million on December 8, and a third amendment to a reciprocal easement agreement was recorded December 13 to allow a hotel not to exceed 65 feet in height. Supporting document for the sale indicate that the hotel will be operated by Marriott, Hilton or IHG.
Branch Navarre purchased the entire 34-acre property August 6 for $9.875 million and on September 21 filed a notice of commencement on an apartment complex, featuring 332 units in 11 buildings plus a club house. The apartments are being constructed on the northeast side of the site.
Two of six roughly one-acre outlying parcels fronting U.S. 98 have been sold to restaurant franchises, specifically Wendy's and Buffalo Wild Wings. Two other parcels have pending sales and third remains available on the market, per Vallas Realty website.