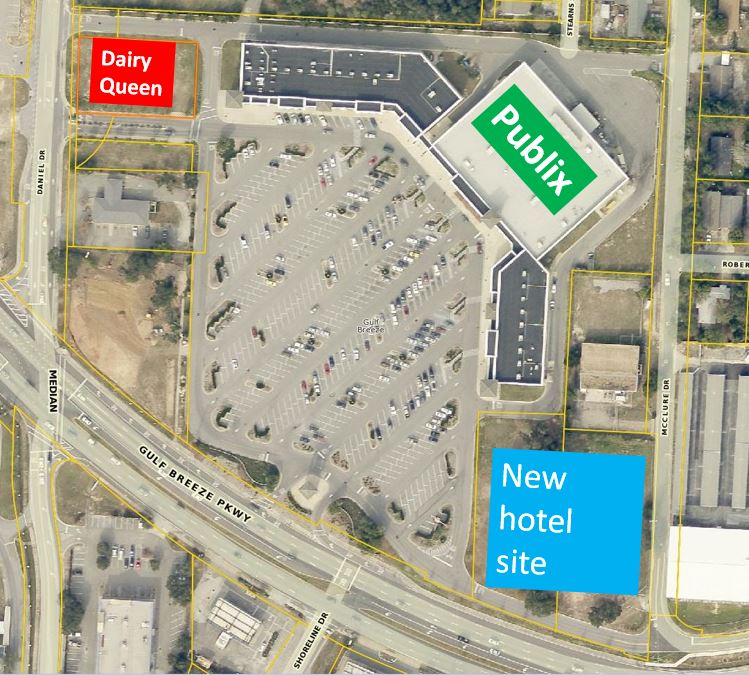 A Georgia-based corporation plans to build a Dairy Queen restaurant on Daniel Drive near Seashell Collections shopping center, which was recently purchased by Publix. Additionally, an investment corporation purchased a hotel site also adjacent to the center, fronting Gulf Breeze Parkway.
"This is another indication of just how strong our economy is in south Santa Rosa County. We are seeing tremendous growth from Gulf Breeze to Navarre with more options for lodging, healthcare, retail and other sectors. Santa Rosa County is a great place to live, work and relax," said Santa Rosa County District 5 Commissioner Lane Lynchard.
According to City of Gulf Breeze records, SAG 1 LLC is requesting to construct the new restaurant at 20 Daniel Drive on two lots totaling roughly 0.7 acres. The property was purchased for $670,000 in March, and the matter is scheduled to be heard by the City of Gulf Breeze Development Review Board at 6 p.m. on October 3.
GB Hotel III, LLC, a hotel investment group based in Miramar Beach, Florida in August paid $1.3 million for a two-acre site located just east of the shopping center on Gulf Breeze Parkway.
Investors Rakesh Chauhan and Vick Chauhan are listed as owners of GB Hotel III, LLC.
Rakesh Chauhan is also Founding Principal and President and CEO of Banyan Investment Group. Vick Chauhan is listed as Banyan's Chief Legal Officer.
Per its website, Banyan Investment Group is a "hotel investment and management company that acquires and manages select-service hotels."
GB Hotel III, LLC was unable to be reached for comment at the time of publication.
Publix recently purchased Seashell Collections shopping center which houses its Gulf Breeze grocery. The multi-million-dollar purchase was made from a New York based corporation, SF III Pensacola, LLC.
In addition to the planned projects, Gulf Breeze Sacred Heart and Ascension recently opened a nearby multi-story pediatric outpatient facility, located at 15 Daniel Drive.