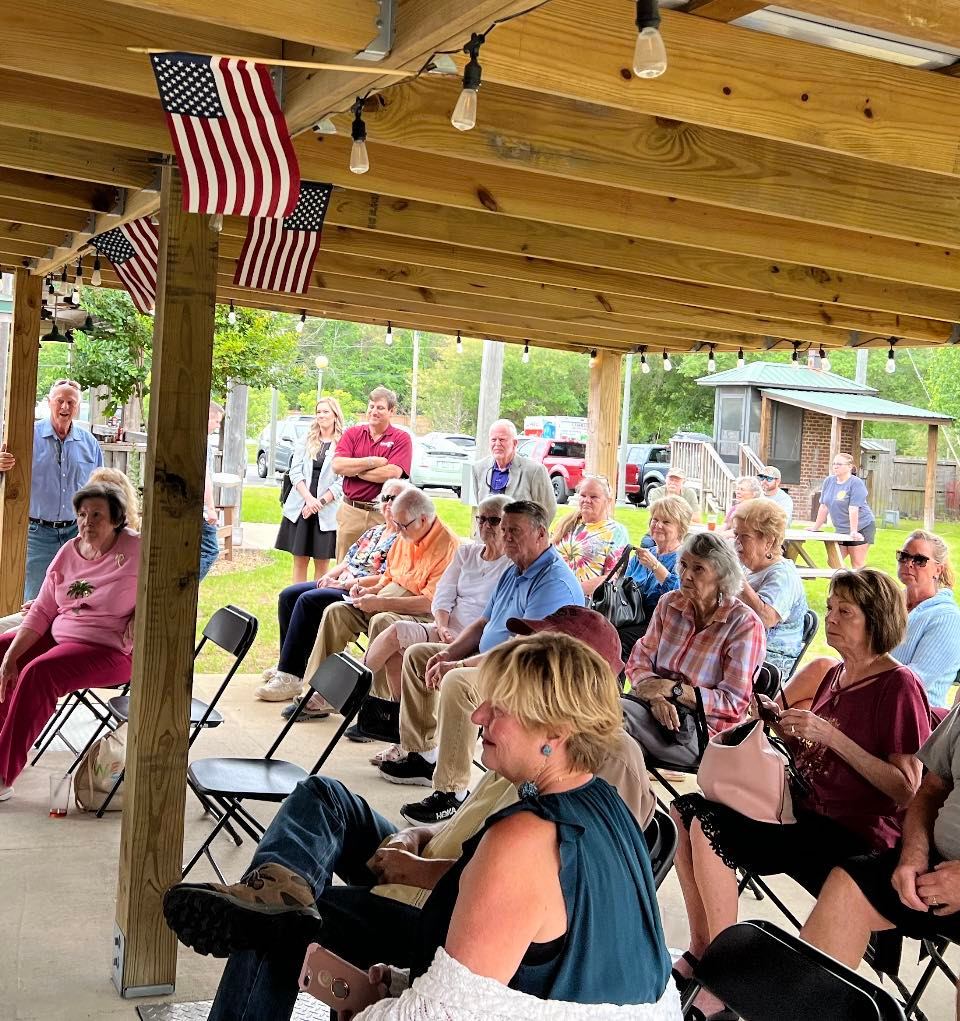 Around 50 people showed up to the first anti-incorporation meeting, which took place April 16 at Ye Olde Brothers Brewery in Holley. Within two day more than 200 members signed up to join the effort. Photo by Romi White.
Organizers were expecting around two dozen people at the April 16 inaugural meeting of a newly forming anti-incorporation group, but more than 50 showed up. Attendees decided to call the group Protect Navarre, and within two days more than 200 decided to become members.
"We stopped Santa Rosa County when they tried to shut down Holley Point Boat Ramp," said Shawn Wilder, founder of the group. "We stopped (Citizens to Incorporate Navarre) in 2014 when there was an incorporation straw poll, last year we stopped Preserve Navarre from including Holley in its proposed city limits. Now it's time to fight Navarre's incorporation straw poll on the November 2024 ballot."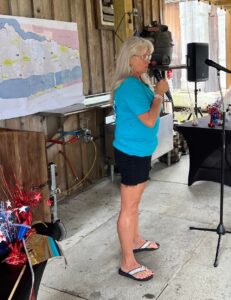 Shawn Barlow Wildman, founder of the anti-incorporation effort, spoke during the group's inaugural meeting.
Wildman, a descendant of one of the area's founding families, the Barlows, expressed concern for locals on fixed incomes, including the elderly, military and single parents, whom she said are already struggling with inflation.
"Our local gasoline taxes will increase, those within the city will be forced to pay higher fees on their monthly cell phone and power bills. All of us who buys groceries will pay a higher local sales tax. But it doesn't stop there," Wildman said. "It's going to cost more for everyone – not just property owners within the city limits, who will see their property taxes go up hundreds, and some even by thousands, of dollars each year."
Wildman went on to point out what she described as "tax and spend wastefulness" in the pro-incorporation group Preserve Navarre's proposed budget. "They want to build a $9 million dollar city hall to house a bunch of government jobs to control you. They want to hire a Commissioner of Homelessness Prevention at $60,000 per year, a Deputy Commissioner of Parking for $49,000 per year, a Commissioner of Public Transportation at $60,000 per year, a Commissioner of Cultural Affairs for $60,000, a Chair of the Main Street Commission, a Chair of the Landmark Commission…Preserve Navarre wants $22 million dollars a year to create what would be a homeowners association on steroids."
Other speakers at the event included two candidates for Santa Rosa County District 3 candidates Jerry "No New Taxes" Couey, who discussed infrastructure, and incumbent James Calkins, who expressed strong opposition to incorporation. Republican activist Larry Hetu also spoke out against incorporation.
Additionally, two former members of pro-incorporation groups spoke during Protect Navarre's first meeting.
Chelle Concha, a former member of Preserve Navarre, told attendees she found discrepancies between what Preserve Navarre has been asserting about county spending and data provided by county records. "We are one county. I am so tired of this divide and conquer strategy that's going on."
Paul Gault, a former member of Navarre Area United, another pro-incorporation group, spoke about the feasibility study proposed by Preserve Navarre, stating such a study is supposed to be performed by an independent third party, not in house by a pro-incorporation group.
Gault also expressed doubt that a proposed future city of Navarre, which would be significantly larger than the City of Gulf Breeze, would be able to have a millage rate half the rate of that within incorporated Gulf Breeze.
Those interested in becoming a member can join by emailing ProtectNavarre@gmail.com.
"The people who started Preserve Navarre moved here to our community because we have low crime, low taxes, high-performing schools, outstanding first responders and lifeguards," Wildman said. "I have a message for Preserve Navarre. Don't move into our community and try to change it into the community you left to come here."